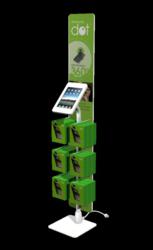 Lilitab's products are well designed, engineered and built to make any brand experience look top notch
San Francisco, CA (PRWEB) September 25, 2012
Retailers capture increased sales using Lilitab's sleek and affordable Lilitab iPad kiosk. Lilitab offers custom branding, banner mounts and eye-catching backdrops for versatile merchandizing promotions.
Kogeto, makers of the Dot 360° video camera attachment for iPhones, recently created unique kiosks to draw attention to their products. Sales increased 1000% in eight weeks in the six locations using the Lilitab iPad kiosks.
Lilitab makes creating custom iPad kiosks easy. The modular design of the mounting solution provides for several types of customer interactions: surface-mount, tabletop or freestanding. The Lilitab Tabletop turns any desk or table into a self-service station with quick installation; the Lilitab Surface is for a more permanent solution for a wall or counter. Keyboard and printer shelves are also available as added accessories. The Lilitab Standard floor kiosk can be customized with optional banners to promote special offers or seasonal products.
Lilitab iPad kiosks, in conjunction with NBC's reality series "Fashion Star", were also used in Macy's across the country to engage fans to purchase winning designs in store.
Installing different home button access faceplates regulates customer interactions. Full web access, a single site or specific applications define the varying customer experiences. Full ADA compliance assures the Lilitab provides easy iPad interactions for wheelchair customers.
"The Lilitab iPad kiosk hits the mark on price, simplicity", writes Michael Rose with TUAW (The Unofficial Apple Weblog). "Rule #1 of iPad kiosks is, of course, make sure we don't lose the iPad. That's among the strengths of Lilitab's kiosk line." Integrated into the Lilitab design from the very beginning, businesses can be sure their iPad resources are safe in public venues.
Retailers engage their customers using the same secure iPad self-service kiosk. Customers can research-and even purchase-special orders and services using the Lilitab Standard. The Lilitab Swipe head unit offers the most tightly integrated magnetic-stripe reader for any iPad kiosk, without exposed cables or flimsy attachments susceptible to damage or credit card fraud.
"Working with a brand that is all about precision and quality, we needed a partner that could provide event hardware of the same standard. Lilitab's products are well designed, engineered and built to make any brand experience look top notch", Todd Friberg, SVP-Creative Director for emg3. Lilitab and emg3 partnered to create a custom iPad kiosk solution for a touring automotive road show.
Kogeto, based in New York City, New York, is transforming the way people capture and share video on the web by creating cameras that see the world around them and a web platform to let people share these experiences. Kogeto invented consumer panoramic capture with Lucy, the world's most advanced panoramic video camera, and put immersive media in your pocket with Dot, the world's smallest panoramic video lens for the iPhone 4 and 4S.
emg3, a Falmouth, Maine-based event marketing firm, believes in the Power of 3®, the unique touchpoints where your brand, your audience, and their environment converge. emg3 builds smart events designed to target, create, and leverage these touchpoints.
Lilitab, based in San Francisco, California, is a group of designers, engineers and business people passionate about the use of table computers in public environments. With their compelling interface, compact form-factor and economical price-point, there are all kinds of new and unique uses for putting interactivity into the public space. Founded in 2011 by Adam Aronson, an award winning kiosk designer, Lilitab is committed to delivering the most secure, functional and stylish security enclosures for ANY tablet. For more information visit http://www.lilitab.com or call 888 705 0190.
Retailers capture increased sales using Lilitab's sleek and affordable Lilitab iPad kiosks.