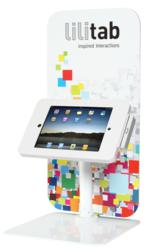 Having the Lilitab units has been a great way to impress our customers and have a lot of fun.
San Francisco, California (PRWEB) April 12, 2013
Lilitab tablet kiosks empower customers to not only discover, but to also complete transactions using the versatile self-service kiosks. Encourage in-store online ordering; the Lilitab Pro Counter provides additional self-service stations and can be deployed for temporary counter top use during peak customer traffic.
Expand sales opportunities and provide superior customer service with the versatile Lilitab Pro Surface tablet kiosk. Featuring a fully integrated and secure card reader option and the patented Mag-Dock lock mobile hand held unit, this clever design quickly transforms into the perfect line-busting tool.
Lilitab tablet kiosks are versatile, modular, and easy to customize. The design encourages custom display of tablets at precise locations in stores. Freestanding, tabletop, surface mount and wall mount options accommodate any merchandizing space requirement. Keyboard and printer shelves are also available as added accessories.
Capture attention with smart branding options for the Lilitab Pro Standard tablet kiosk. Full length backdrops, banners and faceplate graphics make promotional messages pop on this versatile tablet kiosk. Lilitab offers custom branding, banner mounts and eye-catching backdrops to promote special events or seasonal activities.
Lilitab tablet kiosks securely enclose any 10" tablet (i.e. Apple® iPads, Samsung® Galaxy Tabs, Microsoft® Surface), and swivel, tilt and rotate for optimum viewing and interaction. The patented design allows for pass-through power and constant tablet charging, eliminating downtime for critical retail functions.
Accept customers' social media addiction and engage in a fun way: the Pixe Social Photo Booth, developed by a2z, Inc., creates an impromptu party in every store. Photos are instantly shared with customer's friends around the world, combining the excitement of a photo booth and the power of social media. Lilitab tablet kiosks are easily set up and updated with custom banners for each new promotion or event.
Stand out from the rest and make it easy to provide feedback. QuickTapSurvey, created by TabbleDabble, is a fast and fun way to make your customers' opinions be heard. Configure the app to ask a number of survey questions; guests are instantly emailed product information and find the survey forms visually appealing, easy to complete and fun.
GlobalShop 2013, April 16-18 in Chicago, Illinois, is the largest annual store design and at-retail marketing show in the world, bringing together retailers, brand marketers and industry suppliers each year since 1993.
a2z Inc., headquartered in Columbia, Maryland, provides event planners and organizers with a powerful web-based software suite that helps increase and accelerate booth sales. Inc. Magazine has ranked a2z, Inc. on its Inc. 5000 list of the fastest-growing private companies in the country every year since 2007. For more information, visit pixesocial.com or call 410 740 9200.
TabbleDabble, headquartered in Toronto, Ontario, provides businesses with interactive touch screen solutions for lead capture and data collection by building leading edge technology for mobile tablets. For more information, visit tabbledabble.com or call +1 416 548 4191.
Lilitab, based in San Francisco, California, is a group of designers, engineers and business people passionate about the use of tablet computers in public environments. With their compelling interface, compact form-factor and economical price-point, there are all kinds of new and unique uses for putting interactivity into the public space. Founded in 2011 by Adam Aronson, an award winning kiosk designer, Lilitab is committed to delivering the most secure, functional and stylish security enclosures for ANY tablet. For more information visit lilitab.com or call 888 705 0190.
Lilitab partners with unique retail applications to convert showrooming visitors to customers with their versatile tablet kiosks. Their new product line to be debuted at GlobalShop 2013 in Chicago, Illinois, April 16 – 18.