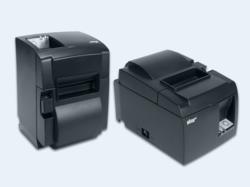 Star's TSP 100 is the perfect printer for high traffic kiosks
San Francisco, CA (PRWEB) November 30, 2012
The Lilitab Swipe iPad kiosk combined with Star's TSP 100 printer provides an interactive transaction hub to service kiosk customers and support merchants. The StarIO SDKs allow end-users to utilize Star Micronics printer in tandem with Apple iPad ™ devices to generate receipts and perform related functions in retail and restaurant environments. Star's TSP 100 is the perfect printer for high traffic kiosks that requires high volume printing. The TSP100 printer provides effortless thermal printing to widths from 2.3" to 3.1" at a speedy 22 receipts per minute (125/mm/sec) at 203 dpi.
Lilitab iPad kiosks are versatile, modular, and easy to customize. The Lilitab Tabletop turns any desk or table into a self-service station with quick installation; the Lilitab Surface is for a more permanent solution for a wall or counter. Keyboard and printer shelves are also available as added accessories. Lilitab offers custom branding, banner mounts and eye-catching backdrops to promote special offers or seasonal activities.
Retailers, hotels, and restaurants engage their customers using the same sleek iPad self-service kiosk. Customers can research-and even purchase-special orders and services using the Lilitab Swipe. Loyalty cards integrated with the three-track Lilitab Swipe seamlessly rewards customers for their repeat business.
The Lilitab iPad enclosure head unit securely locks the tablet in place. Every mounting solution has the option to be bolted or cable-locked to the floor or other surface. Integrated from the very beginning, merchants can be sure their iPad resources are safe in public venues.
Lilitab provides a starter app, LilySwipe (available in the Apple App Store), as well as a Software Development Kit (SDK) with sample starter projects. Applications can be either native iOS or web-based, using a native iOS "wrapper" to move data from the card reader to a web page. The LilySwipe app lets merchants test their hardware right out of the box using their own e-commerce or other website.
The Lilitab Swipe is offered as an encrypted or unencrypted option. Encrypted versions encrypt right at the reader head so no sensitive data is ever seen by the device, iOS or application. Sensitive customer data is never in the tablet or app, reducing merchant's Payment Card Industry (PCI) liability scope. Lilitab offers multiple encryption key options with their card reader head from Magtek; their standard Magensa encryption key in addition to custom keys.
Star Micronics America, Inc. is a subsidiary of Star Micronics Company Ltd., the second-largest small printer manufacturer world-wide. Star Micronics also manufactures audio components, high-precision machine tools, and precision parts. Star Micronics Company Ltd. is ranked as one of the Top 50 "Most Stable" Japanese companies on the Japanese Nikkei. For more information, visit http://www.starmicronics.com or call 800-782-7636.
Lilitab, based in San Francisco, California, is a group of designers, engineers and business people passionate about the use of table computers in public environments. With their compelling interface, compact form-factor and economical price-point, there are all kinds of new and unique uses for putting interactivity into the public space. Founded in 2011 by Adam Aronson, an award winning kiosk designer, Lilitab is committed to delivering the most secure, functional and stylish security enclosures for ANY tablet. For more information visit http://www.lilitab.com or call 888 705 0190.
Lilitab Swipe iPad kiosks with credit card readers provide easy integration with Star Micronics printers.