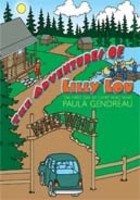 Madawaska, ME (Vocus) June 6, 2009
Going away to summer camp for the first time can be a daunting prospect, Lilly Lou finds out. But the wonder of the wilderness and the warmth of a new camp counselor make the transition an exciting one! In Paula Gendreau's first book, The Adventures of Lilly Lou: The First Day at Camp Who Who (published by AuthorHouse) walks children through the anticipation of the first day of summer camp and the excitement that awaits them.
Paula Gendreau's first book was inspired by her own young children, Kara (age 7) and Kurt (age 5). Lilly Lou, an eager but hesitant new camper, is unsure of leaving her parents for a week to embark on a "big girl" journey. After hugs and kisses from Mom and Dad, Lilly Lou realizes just how fun summer camp can be.
At Camp Who Who, Lilly Lou learns to canoe, makes yummy s'mores and sings songs around the campfire - and best of all, she makes new friends. When her week at Camp Who Who is over, Lilly Lou's anxieties have been relieved, and she can't wait to return for more adventures next year!
The perfect book for settling a child's fear of leaving home for the first time, The Adventures of Lilly Lou: The First Day at Camp Who Who is a delight for new or veteran summer campers alike. Children will relate to Lilly Lou's nervousness at setting off on a new adventure and will be comforted by the fun she encounters during her first week at summer camp.
Trade paperback, 8.5x11 color
Approximately 16 pages
ISBN: 9781438959504
$5.60 retail price
Available at http://www.amazon.com and http://www.barnesandnoble.com
About the author
Paula Gendreau resides in Madawaska, Maine with her two children and her husband Mark. She's active in her children's lives and is the vice president of the Madawaska Elementary School PTA. She has two more books in the works to continue the adventures of Lilly Lou.
EDITORS: For review copies or interview requests, contact:
Elizabeth Friedland
Tel: 317.926.1727
Fax: 317.926.1728
Email: efriedland(at)authorsolutions.com
(When requesting a review copy, please provide a street address.)
###