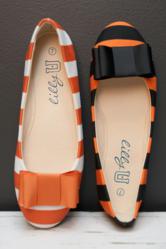 Washington, DC (PRWEB) June 18, 2013
Female fans of college sports can now complete their game day look with chic and comfortable ballet flats from LillyU. The very first fashionable footwear line created exclusively for the soles of 78 million female collegiate fans is now available and ready for kickoff for the fall football season.
Dubbed "Tailgate Toes", the LillyU line is centered around the excitement of sporting one's school colors. It came about when Kassie Rempel, the founder of Lillybee shoes and University of North Carolina graduate embarked on a quest to look spiritedly stylish at a UNC basketball game. Finding little in the stylish but spirited category, with her background in shoe design and with Rempel's business partner, Lisa Palmer's background in wholesale, the two founded LillyU in February 2013.
The bi-color striped shoes (available in whole sizes from 6-11) retail for $58. Fans can accessorize their flats with one of three shoe-clip options; solid colored bows ($15), solid colored bows with school mascots ($18) or round enamel shoe clips with the school lettering ($28).
Participating collegiate shops, on and off campus bookstores, fan shops and specialty boutiques will carry the shoes. In addition, the flats can be ordered directly from lillybee.com, where purchasers currently receive free shipping on all U.S. orders. Below is a list of the universities that are represented:
Auburn University – Auburn, AL
Clemson University – Clemson, SC
Duke – Durham, NC
Florida State University – Tallahassee, FL
Louisiana State University – Baton Rouge, LA
North Carolina State University – Raleigh, NC
Ohio State University – Columbus, OH
Oklahoma State University – Stillwater, OK
Syracuse University – Syracuse, NY
Texas A&M University – College Station, TX
Texas Christian University – Fort Worth, TX
Texas Tech University – Lubbock, TX
The Pennsylvania State University - State College, PA
The University of Alabama – Tuscaloosa, AL
The University of Arizona – Tucson, AZ
The University of Michigan – Ann Arbor, MI
The University of Oklahoma – Norman, OK
The University of Texas at Austin – Austin, TX
The University of Virginia – Charlottesville, VA
University of Florida – Gainesville, FL
University of Georgia – Athens, GA
University of Kentucky – Lexington, KY
University of Missouri – Columbia, MO
University of North Carolina – Chapel Hill, NC
University of South Carolina – Columbia, SC
University of Tennessee Knoxville – Knoxville, TN
University of Kansas – Lawrence, KS
Vanderbilt – Nashville, TN
Virginia Tech – Blacksburg, VA
Wake Forest – Winston Salem, NC
To order, visit http://www.lillybee.com or call 202-333-1036.
According to IMG College
-There are 78 million female college sports fans, more than any major sports league.
Statistics from NACS (National Association of College Stores)
-$10.23 Billion Annually
Total U.S. College Store Market
-$4.5 Billion Annually
Total Non-Book Sales
-College enrollment for 2011 was 19.1 million students.
-College students have an average of $179 per month to spend on discretionary purchases.
About LillyU
Based in Washington, DC, LillyU is the brainchild of Kassie Rempel, an admitted shoe-freak and born-and-bred Carolina fan. Kassie founded an e-commerce shoe boutique called, SimplySoles, and sold it in 2012 to focus on her new passion – footwear for fans. While it's true she "technically" created the line just so she'd look spiritedly stylish at the Dean Dome, she is thrilled to be able to share the collection with fans of all sorts (Duke perhaps excluded). The line and label wouldn't exist without the guardianship and stewardship of Kassie's partner, Lisa Palmer. Both Kassie and Lisa each, separately, founded a company called Lillybee. It was their love of their independent lines (one designed shoes, the other children's clothing) that first brought them together. After speaking about it for so many years, in 2012 they finally fused their knowledge, passion, and experience into one joint and single company, Lillybee LLC (the parent company of LillyU).
Twitter: https://twitter.com/lillybee
Media Contact: Darlene Fiske, 512-331-7755, darlene(at)thefiskegroup(dot)com
Photography available upon request.