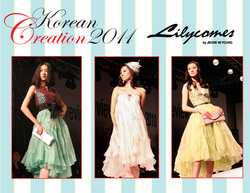 Ms. Jeone 's collection this season is inspired by classic '60s French fashion but with a refreshingly original and modern take on the young professional woman
New York, NY (Vocus) September 7, 2010
Innovative Korean designer Jeone modernizes the sensual 60's silhouettes radiating optimism on the runway this year with her 2010-2011 Lilycomes collection at New York Couture Fashion Week. The show will be held at the legendary Grand Ballroom at the Waldorf Astoria on Saturday, September 11 at 8:00 pm.
Exhibit: Friday, Saturday and Sunday, September 10-12 –from 2-8 pm (John Jacob Astor Salon)
Korean Collective Runway Show: Saturday, September 11 at 8:00 pm (Grand Ballroom)
Location: Waldorf Astoria, 301 Park Avenue (Between 49th/50th Streets), New York City
Designer Jeone looks forward in fashion by looking back in time with a unique application of the French technique of moulage in her designs. Her new collection features a modern take on 1960s styles inspired by the iconic Catherine Deneuve and the classic French film The Umbrellas of Cherbourg. Delicate pastels in green, pink, mint and blue offer a whisper of color in seemingly diaphanous hues along with bursts of technicolor in red and yellow, reflecting the delicious pop-art pastels seen in the fashionable film.
"Ms. Jeone 's collection this season is inspired by classic '60s French fashion but with a refreshingly original and modern take on the young professional woman," said Mira Zivkovich, president of New York-based MZI Global fashion consulting firm. "She is an Asian designer with timeless, global appeal, like Oscar de la Renta and Carlina Herrera, that will resonate with women in New York and all over the world."
This new collection will speak to the young, fashionable woman seeking sophisticated, feminine style. The beautiful silhouettes in chiffon, silk and jacquard will float down the runway with effortless elegance.
Designer Jeone founded a technical educational institute for design in 2001. After great success, she launched Lilycomes in 2005 to further exhibit her design skills. Ms. Jeone's extensive educational background includes Esmod de Paris, Ecole Nationale Suprieure des Beaus, Ecole de la Chambre Syndicale de la Couture Parisienne, as well as an advanced program in fashion business for CEOs at Seoul National University.
Lilycomes Collection will be available in the US exclusively at Koreancreation. Wholesalers and distributors please contact Ksenia Denisova at MZI Global Marketing at 212 366 5409
MZI Global Marketing is an award-winning, full-service integrated marketing and advertising firm that creates and executes effective high-tech solutions for their clients across a wide spectrum of industries. Under the leadership of president and CEO Mira Zivkovich, recipient of the 2007 Ellis Island Medal of Honor, MZI Global Marketing puts its international, multicultural marketing expertise, a mastery of interactive marketing strategies, and custom publishing prowess to work for clients that aim to build their businesses on a global scale. MZI Global Marketing is committed to guiding its clients from initial strategy to well executed solutions, helping them surmount any challenge and achieving their every business goal. For more information, please visit http://www.mziglobal.com.
###