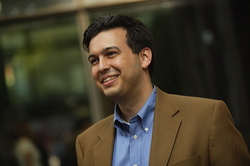 Marketing to Latinos is good business. This conference is a reflection of the digital marketing industry's recognition of our $1 Trillion in purchasing power.
Philadelphia, PA (PRWEB) March 6, 2011
At SES New York, taking place March 21-25, 2011 at the Hilton New York, prominent experts in the Latino marketing community will participate in sessions and panels specifically addressing the U.S. Hispanic and Latin American markets. Programmed in collaboration with Lima Consulting Group, a Philadelphia online marketing and web analytics agency, and media company LatinVision Media Inc., the "Focus Latino" Track is scheduled for Wednesday, March 23. The keynote address will be delivered by Mark Lopez, Head of U.S. Hispanic Audience at Google.
"As we programmed the sessions, we tried to balance the aspects of Latinos and Hispanics, of large and modest marketing budgets, of Portuguese and Spanish speakers and of U.S. Hispanics and those living abroad," said Paul Lima, CEO of Lima Consulting Group, LLC. "We are delighted to have been invited to help program the 'Focus Latino' panels for 2011. Bringing back the SES Latino Track is good for business. Marketers need to understand that while there are many differences amongst Latino internet users, as a whole, we use the internet differently and in ways that marketers who are in-tune with us can use to create real value while also increasing their returns" says Lima. SES Latino was last held in 2007 in Miami.
When asked about the integration of such a culturally-thematic series in a mainstream search conference meant, on a personal and professional level, Mr. Lima responded "My dad is a second generation Portuguese immigrant and my mom is a Cuban immigrant. They taught me the importance of education and hard work. My grandfather from Cuba waited tables in Queens for years even though he had a college degree when he left Cuba. My hope is that we help ambitious and capable Latinos eager to become online marketers find access to opportunities, jobs and capital so that talented folks can contribute towards making our economy strong."
Mr. Lima shares a unique perspective in seeing the online marketing industry include more Latinos. He says, "That's why I'm trying to do something to help. I'm the Chairman for the Greater Philadelphia Hispanic Chamber of Commerce and in that role I've worked to consolidate and strengthen the voice of Latino business. Marketing to Latinos is good business - we value education, entrepreneurship and hard work, and we are getting beyond our cultural differences and organizing ourselves economically, socially and even politically. This conference is a reflection of the digital marketing industry's recognition of our $1 Trillion in purchasing power and at the same time demonstrates our ability to organize ourselves as digital marketers to help inform and educate mainstream marketers about how best to reach us."
The addition of this Latino track to an already packed SES New York agenda is a real coup for us, and we have the perfect partners in LatinVision Media and Lima Consulting Group," stated Matt McGowan, Managing Director of Americas for Incisive Media. "We've lined up experts from many of the leading Latino-centric companies to give their input on all aspects of search and social media." Paul Lima worked with Incisive Media and LatinVision Media to develop a lineup of sessions that would appeal to companies interested in tapping into the $1 Trillion of purchasing power of US based Latinos.
As recognition for his programming the agenda, Mr. Lima was named as the Keynote coordinator and as a panelist in the Analytics for the Latino Market session. When asked about what he planned to share on the "Analytics for the Latino Markets" panel he said, "implementing online marketing best practices for Latinos is similar to those of the mainstream. But there are subtleties in identifying Key Performance Indicators and in the ways we use information when making purchasing decisions. Selling analytics to Latino owned businesses, whether here or abroad, is also very different due to the reliance on open source or free software and the belief that marketing is more art than science. So there is a lot more education and awareness needed to help Latino businesses understand what is possible when it comes to providing optimized online experiences, to personalize ads and content, and to implement the science of marketing into their businesses."
Sessions planned to-date for the Focus Latino track include:
· Reaching Latinos through SEO
· Search and Social Marketing to Latinos Roundtable
· Analytics for the Latino Markets
· Improved Conversions with Website Optimization
SES New York, the industry's leading search and social marketing conference and expo, is expected to attract over 5,000 industry professionals. To attend SES New York, fill out the registration form here.
About SES
Incisive Media's SES is a leading global conference and training series focused on search and social media marketing. Other Incisive resources for interactive marketers include ClickZ for digital marketing news, information, commentary, advice, opinion and research and Search Engine Watch, which provides news and information about search, analysis of the search engine industry and tools for improving search marketing effectiveness.
Incisive Media is a leading global provider of specialized business news and information, in print, in person and online. The company's principal markets include financial services, legal services, commercial real estate, marketing services and risk management. Incisive Media's market-leading brands include Accountancy Age, Computing, Investment Week, Legal Week, Post, Risk, and SES Conference and Expo. For more information, visit http://www.incisivemedia.com
About LatinVision Media
LatinVision Media, Inc., a New York based company, is a premier organizer of conferences and business networking events, gathering U.S. Hispanic and Latin American executives, professionals, entrepreneurs and business owners. For more information, visit http://www.latinvision.com
About Lima Consulting Group
Lima Consulting Group, LLC, a Philadelphia based, multi-national, online marketing agency, helps organizations develop, deploy and measure effective digital strategies. With offices in Sao Paulo, Brazil, Montivideo, Uruguay, Bogota, Colombia and Philadelphia, the company provides digital strategy development, conversion optimization and analytics consulting to reach Latinos in the US and abroad. For more information visit http://www.limaconsulting.com.
# # #