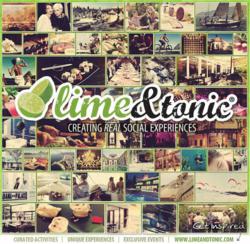 Our mission is to get people offline and socializing more in the real world. -Stefan Cordiner, CEO / Co-founder
London (PRWEB) July 05, 2012
Lime&Tonic – an online lifestyle 'discovery engine' already operating successfully in Sydney, Rio de Janeiro and Prague and soon Dubai – soft launched today in London, promising access to exclusive experiences for its discerning members.
The London team hand-picks the best restaurants, spas and activity merchants based on tips provided by members and curates a shortlist of unique experiences, which are loaded to the Lime&Tonic platform, making it the go-to guide for urbanites looking for inspiration on things to do in their city.
Featured adventures range from Michelin-starred culinary experiences to private social events and adrenaline activities. Popular experiences include the 'bespoke chef's menu' – simply turn up and be greeted by the restaurant chef who presents a personalized menu custom-created just for you and built around the preferences from your online profile. Essentially, the system ensures you're treated like the venue's best customer, and offers confidence and peace of mind in the knowledge that all pricing is pre-negotiated and that Lime&Tonic donates 10% of their revenue to local charities.
"Leisure time is our most valuable commodity these days, yet we're overloaded with information on things to do in London. Our mission is to get people offline and socializing more in the real world," says Sydney-born co-founder, Stefan Cordiner. "We facilitate this by providing our members with access to a curated selection of unique activities and dining experiences in London, and the online tools to allow them to create and manage their social gatherings around our experiences. We're like a Time Out Guide for premium things to do."
Members typically use Lime&Tonic for special occasions such as birthdays, date nights, celebrations, important corporate client dinners, small-company team building, visits from out-of-town guests, memorable gifts or any other instances when a 'wow factor' is important. The Lime&Tonic platform also has some time-saving tools to help you arrange turnkey social gatherings around the experiences, and even allows you to join or host events for or with other Lime&Tonic members.
Explaining additional advantages of Lime&Tonic's platform, Cordiner added "Our voucher-less reservations system gives our members a seamless experience with an opt-in that allows merchants to use profile data to create personalized events for each member, and a Top 10 list which generates rankings based on verified member reviews."
Membership to the site is (currently) free.
About Lime&Tonic
Lime&Tonic provides access to exclusive experiences in the world's coolest cities, carefully hand-picking and curating the best things to do in each destination. Coming out of beta in February 2011, Lime&Tonic is now operating in five cities globally with local curators in each market.
To find out more, visit http://www.limeandtonic.com, or to schedule an interview with Stefan Cordiner, contact Victoria Ferran at +44 (0) 77 3103 7200, victoria(at)limeandtonic(dot)com.