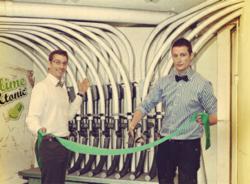 Our mission is to get people offline and socializing more in the real world.
Prague (PRWEB) July 31, 2012
Lime&Tonic has revived the Prague pneumatic postal system, making it the first internet start-up to use such an antique, but extremely effective, method of bridging the online and offline worlds to integrate their reservations system with their merchants.
The pneumatic postal system started in 1889 using compressed air to propel capsules along a 55-kilometer underground network of metal tubes throughout the center of Prague to various outlets around the city. Lime&Tonic's Nodal Global Reservation Pneumatic Network tube system (or "No-GRPN") allows this leading provider of curated experiences with a focus on culinary adventures to contact merchants and confirm reservations for their events in under 10 minutes, giving them an advantage that cannot be replicated, even with the most modern technology.
"We knew that our 50,000 members would not want to turn up at Michelin-starred restaurants with paper vouchers, but we didn't know how to get around this," explains Lime&Tonic co-founder David O'Sullivan. "We wanted a system that is robust and reliable. The pneumatic postal system has worked effectively for well over a century, connecting leading centers of business throughout the city."
Lime&Tonic approached the current owner of Prague's pneumatic postal system, Telefónica O2 Czech Republic, in 2011 with the proposal to integrate their website reservation system with the pneumatic network, which would send all reservation and purchase information directly to the merchant, thereby eliminating the need for their members to print off vouchers to utilize their experiences. Lime&Tonic raised an angel round of finance at the end of 2011 and the team has spent the last six months developing a digital-to-analogue converter to marry the two systems.
Unfortunately, most members will never see the beauty of how the system works, as they will only click a "book now" button and the rest of the magic happens behind the scenes. Members then just turn up at the merchant, provide their names and enjoy the unique experience. "It's ingenious," says Daniel Lynch, one of Lime&Tonic's top members and investors.
Prague was the test ground for this ground-breaking concept, and Lime&Tonic is now trialling the same system with the recently launched London website. "We're revolutionizing how people find cool things to do in the world's most exciting cities," says co-founder Stefan Cordiner. "It's great that we now use real-world technology, as our mission is to get people offline and socializing more in the real world," he chuckles.
Lime&Tonic membership is free. To try the revolutionary booking system first-hand, please visit  http://www.limeandtonic.com/london.
About Lime&Tonic
Lime&Tonicprovides access to exclusive experiences in the world's coolest cities, carefully hand-picking and curating the best things to do in each destination. Coming out of beta in February 2011, Lime&Tonic is now operating in five cities globally – London, Sydney, Rio de Janeiro, Prague and Ljubljana, with Dubai under preparation to launch – with local curators in each market.
For more details about Lime&Tonic or to schedule an interview with Stefan Cordiner, please contact Victoria Ferran at +44 (0) 77 3103 7200 or victoria(at)limeandtonic(dot)com.