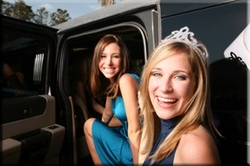 Win a Free night out in a Limo. That's Right; We are offering you and your guests a limo ride on your Birthday or Anniversary!
Figueroa St. Ste, Los Angeles (PRWEB) April 6, 2011
One of the most reputed Limo Service companies, ULC Limos has announced that it offers customized Prom Limo rides for teenage boys and girls. In order to provide secure and safe services for one of the most special occasions on the teen calendar "Prim Night", the company offers customized chauffeur driven limousines and Party Buses. It offers a wide range of vehicles especially modified for the very day. The Limo Services of the company can help the parents of teenage children to make their kid's Prom Night experience both safe and special.
Commenting on the customized Prom Limo rides offered by ULC Limos, says the Founder of the company, Mr. Brandon Jacobian, "Our services are the best compared to any other ground transportation company. We acknowledge that occasions like Prom Nights have tremendous effects on the lives of teenage kids. That is why we have customized our vehicles to make the event even more memorable for our customers. We do not allow kids to drink alcohol or take drugs on Prom Nights. We also ensure that the children are picked up and dropped back to their destination within the designated hours."
ULC Limos is one of the most reputable Limo Service companies, which has been enlisted in the website of National Limousine Association (NLA). The company has also been featured in the Orange County Register, Los Angeles Times, OC Weekly, and OC Metro as the fastest growing limousine service in the greater Southern California area. Besides offering its services for Prom Nights, it also offers Wine Tour Limos for vacations and sightseeing.
Adds Mr. Jacobian, "At ULC Limos, our first priority is the safety and security of our clients. Secondly, we value the wishes and fancies of all our customers so that we can make their journey a memorable experience. Our vehicles carry all the required documents and papers required for hassle free transport. Our staff members are very friendly and courteous towards our clients. Because of all these reasons, we have often featured in the important city magazines."
For more information on the Prom Limo rides offered by ULC Limos log on to http://www.ulclimos.com
###