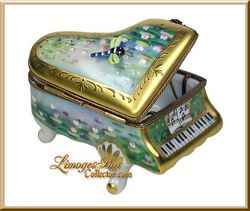 We are privileged to be the exclusive authorized dealer in the United States for Beauchamp Limoges
Los Angeles, California (PRWEB) August 25, 2009
LimogesBoxCollector.com is proud to announce the arrival of a magnificent collection of hand-painted Limoges boxes by Beauchamp Limoges. Every Limoges box in this collection is crafted by highly-skilled Limoges artisans in Limoges, France.
Collectors always look for new styles and designs. Beauchamp Limoges offers a very large collection of Limoges boxes with new and original designs in various themes. Each Limoges box is specially commissioned and crafted by master artists, selected from the very best of artists in Limoges, France. Collectors can find Limoges boxes in exquisite designs for every occasion, such as Birthdays and Christmas, boxes related to Animals, Beach and Tropics, Gardening, Professions, Sewing, Buildings and Cottages, Sports, Travel and many, many others. Limoges boxes from Beauchamp Limoges are sure to capture the fancy and delight any Limoges enthusiast.
"We are privileged to be the exclusive authorized dealer in the United States for Beauchamp Limoges," says Vida Cunningham of LimogesBoxCollector.com. "This fantastic collection offers an extensive selection to satisfy every taste and budget."
Unlike lower quality and inexpensive Limoges boxes, Beauchamp Limoges boxes are highly superior in quality and workmanship. Each piece is exquisitely hand-painted with great detailing; many of the styles have elaborate paintings inside and/or contain a beautiful accessory piece.
Every Beauchamp Limoges box bears the distinctive "Beauchamp Limoges" backstamp as well as the designation "Limoges, France" as the guarantee of authenticity and the origin of manufacture. The words "Peint Main" indicate that the Limoges box is painted by hand. Some artists include their initials or name in the markings. Some of the Beauchamp Limoges boxes are created in a limited edition; and, therefore, the number will also be included in the insignia.
Authentic Limoges Boxes are highly collectible as they are made only in the Limousine region in central France. These beautifully decorated miniature boxes are made of the highest quality white porcelain found only in that region. Every Limoges box is crafted and artfully hand-painted by French artisans with vibrant colors and glaze, fired numerous times for brilliance and luster, and is finished by hand with decorative hinges to create a true masterpiece for shoppers and collectors' enjoyment.
At LimogesBoxCollector.com, collectors and shoppers can find Limoges boxes for every occasion, taste and budget, excellent for gift-giving or to add new pieces to their collection. LimogesBoxCollector.com offers an extensive collection by Beauchamp Limoges as well as other well-know manufacturers. LimogesBoxCollector.com is proud to offer the largest collection of retired and RARE Walt Disney Limoges boxes made by Artoria Limoges.
LimogesBoxCollector.com is owned by Grand Dezign, Inc., a direct importer of Limoges Boxes from France, offering the highest quality at the most competitive prices. All Limoges Boxes featured are offered at great savings below retail and specialty shops prices.
For more information, please contact:
Customer Relations Specialists
LimogesBoxCollector.com
310-391-4559
http://www.limogesboxcollector.com
###