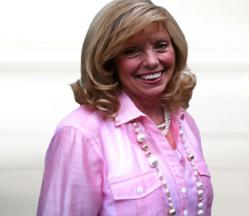 Anyone who finds the strength to pick themselves up after a tragedy is courageous. Anyone who uses that tragedy to pick others up is heroic. Linda Craig is both.
Little Rock, Arkansas (PRWEB) May 15, 2012
Arkansas law firm, Rainwater, Holt & Sexton recently honored Linda Craig, President of the Arkansas chapter of Concerns Of Police Survivors (C.O.P.S.), an organization dedicated to providing peer support and resources to assist in rebuilding the lives of surviving families and co-workers of law enforcement officers killed in the line of duty.
"Anyone who finds the strength to pick themselves up after a tragedy is courageous," said attorney Mike Rainwater. Anyone who uses that tragedy to pick others up is heroic. Linda Craig is both."
Craig became involved with C.O.P.S. after her own husband's death in 2000. She began to participate in national C.O.P.S. activities in 2001 and found tremendous support from others who also had lost loved ones in the line of duty. Overwhelmed with her experience at the national C.O.P.S. conference in Washington, D.C., she returned to Arkansas and began taking steps toward starting a local chapter. Craig was made vice president of the Arkansas Chapter in 2002 and later became president, a position she has held for the past two years.
"I am inspired by the survivors I meet each year," Craig said of the family members she helps. "When I meet a survivor for the first time, they are in shock and often just barely surviving. As I get to know them and watch them grow, come back to life, and begin to live productive lives and even want to be there to encourage others, I am inspired for the next survivors who will come along."
Survivors Are Not Alone
Craig has offered her friendship and counsel to many families in Arkansas. Her goal has been to help survivors during their grieving process by sharing her experience and offering her unwavering understanding and commitment to helping them realize they are not alone.
"Since my friend and Linda's husband, Arkansas State Police Captain Tom Craig, was killed in the line of duty in 2000, Linda has taken one of life's toughest situations and turned it into a blessing for others," said Captain M. Dale Saffold of the Arkansas State Police Highway Patrol. "When I have traveled with Linda to visit family members of other officers who recently died in the line of duty, it is amazing the calming effect she can have on those who are hurting so deeply."
A Firsthand Account
"My husband, Jonathan Schmidt, an officer in Trumann, Arkansas, was killed in the line of duty," said Andrea Schmidt, one of the survivors Craig has helped. "Linda was there the day of or the day after Jonathan's death. She was such a blessing. I could feel her kindness and concern for me and my family even though she was just meeting us for the first time. Over this past year, Linda has been a constant in my life. She has helped me in so many ways, from answering any technical questions I've had about paperwork to answering her phone at 11:30 p.m. just to listen to me cry. It came at a very dark and difficult time for me in my grief, and Linda had the insight to know that she could ever so tenderly encourage me and help me through that time."
A Modest Hero
Both modest and selfless, Craig does not see herself as a "hero," but does hope her life and story can be encouraging to others so they will be challenged to live on and eventually give back to others. "My heroes are first responders, particularly police officers. When people are running away from danger and chaos, first responders are running straight into the face of danger to protect and serve society," Craig explains. "I think we need heroes because society needs people who are willing to set the bar high so others will be challenged to reach for higher goals. This improves the standard of living for all of society."
About C.O.P.S. Services
C.O.P.S., or "Concerns of Police Survivors," was founded in 1984 with 110 individual members. The organization now helps more than 15,000 families in the United States. C.O.P.S. provides resources to assist in the rebuilding of lives of surviving families and co-workers whose loved ones were killed in the line of duty.
What's The Ripple Effect?
Rainwater, Holt & Sexton launched The Ripple Effect to shine a spotlight on everyday heroes— people who are engaged in the ministry of a faithful presence—doing what they've been called to do and inspiring others in the process. The Ripple Effect is an ongoing initiative that celebrates and shares the stories of local heroes who continue to make a positive difference. Honorees receive engraved trophies and a charitable donation from the law firm. Learn more and nominate a hero.
About Rainwater, Holt & Sexton
Rainwater, Holt & Sexton has successfully litigated a wide range of claims throughout Arkansas. With a staff of more than 50 legal professionals and 14 Arkansas personal injury attorneys, the Little Rock-based law firm focuses on plaintiffs' personal injury law. The firm's Arkansas personal injury lawyers are committed to representing the rights of individuals and take pride in their reputation as knowledgeable litigators and effective negotiators.
###