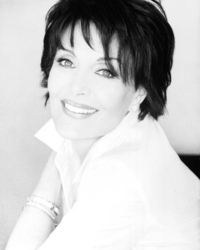 From coast to coast, people are preparing their homes. Some are 'staging' their homes to help sell in a competitive buyers' market while others are redecorating their existing spaces. Many people have just moved into a new home and are on a tight budget. We have inventive solutions that meet all of these challenges to help design on a budget with practical elegance
New York, NY (PRWEB) May 20, 2008
Emmy Award-winning actress, talk-show host, designer and author Linda Dano is scheduled to return to QVC® on Friday, June 6 from 9-10 AM (ET) to unveil the latest additions to the Linda Dano Home Collection.
With a commitment to leaving no home void of great design ideas, Dano will showcase a variety of home accessories that she says will meet the challenges of today's complicated housing market.
"From coast to coast, people are preparing their homes. Some are 'staging' their homes to help sell in a competitive buyers' market while others are redecorating their existing spaces. Many people have just moved into a new home and are on a tight budget. We have inventive solutions that meet all of these challenges to help design on a budget with practical elegance," says Dano.
Dano's new pieces were designed to transform any home with modern, traditional or eclectic furniture into warm and functional spaces. As the author of Living Great (GP Putnams Sons) and a frequent contributor to The View, Dano has used her training and talents to create new spaces for private clients and celebrity friends. Now, with the new pieces that Dano is debuting for her line created especially for QVC, she is helping others as well.
Linda Dano blogs regularly on Home Design @ http://community.qvc.com/blog/Linda-Dano/3000000055
NEW pieces from the Linda Dano Home Collection include:
Two-Piece Wooden Campaign Tables
QVC Item #HO9528
Approximately $87.00
Decorative Leopard Print Mirror
QVC Item #HO9525
Approximately $96.00
Set of Two Houndstooth Pattern Storage Trunks
QVC Item #HO6887
Approximately $128.00
Faux Suede Stool
QVC Item #HO9646
Approximately $95.00
Eight-Pane Arched Shaped Mirror
QVC Item #HO9526 Approximately $40.00
Set of Two Paneled Wall Mirrors
QVC Item #HO9527
Approximately $48.00
Faux Crocodile Storage Ottoman with Convertible Lid
QVC Item #HO9539
Approximately $87.00
Set of Two Wooden Candlesticks
QVC Item #HO9531
Approximately $40.00
Chocolate Blues Chenille Decorative Pillow
QVC Item #H11805 Approximately $34.00
Chocolate Blues Chenille Tapestry Throw
QVC Item #H11798
Approximately $53.00
Linda Dano's designs have been featured on QVC since 1993, with The Linda Dano Home Collection launching in 2007.
###