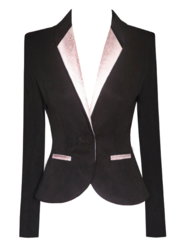 We are looking to bridge the gap between contemporary and designer brands...
Los Angeles, CA (PRWEB) July 11, 2012
"Living happily in between modern and vintage" is the philosophy behind Lindsay Long, a new luxury clothing and accessories line set to launch just before the holiday season in October. The company's secret? Salmon Skin. Long imports the skins from an organic salmon farm in Europe, where they utilize the byproduct by turning it into beautiful leather in a rainbow of colors. Salmon skin has been very popular in European luxury fashion and interior markets, but is still relatively new to the US. It is the new sustainable alternative to exotic skins and, when mixed with the proper elements like Lindsay Long's clothing line, is becoming a force to be reckoned with in the high-end fashion industry.
Lindsay Long is a collection of modern clothing with subtle, vintage inspired undertones. Featuring designer dresses, jackets, and accessories to match, the entire line is made in the USA with luxurious, high quality materials that are mixed with unexpected elements to create a truly unique look. Lindsay Long targets the fashion forward, career oriented woman. "We are looking to bridge the gap between contemporary and designer brands and create a community of modern and vintage clothing lovers that are looking for a little of the best of both worlds," states Long.
Although the collection's official launch isn't until the end of October, Lindsay Long is currently offering a curated selection of clothing and salmon skin accessories available at select specialty boutiques and online. Keep up with Ms. Long as she designs new and beautiful creations from salmon skin, and learn why the skin is quickly becoming the hottest trend in the luxury fashion industry.
###
ITC is a high-end Internet Marketing firm ranked in the top 1% of their industry. ITC prides itself on being the firm handling Lindsay Long's online marketing efforts.