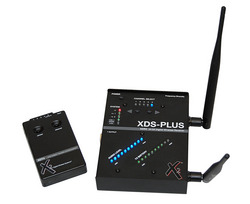 Calabasas, CA (Vocus) July 8, 2008
Line 6, Inc. announced today that its X2™ XDS-Plus digital wireless system is available through authorized dealers. Designed specifically for working musicians, the X2 XDS-Plus combines portability with the advanced sonic clarity of high-quality cable and the superior RF performance of the company's X2 XDR95 rackmount system.
Housed in a rugged metal chassis, the system features a proprietary compression-free digital format that provides the sound and feel of a direct wire connection, while its dual diversity (anti-jamming) technology ensures a clear and reliable signal, even in the presence of harsh RF interference. Additionally, the X2 XDS-Plus is 2009 compliant meaning that it's free from DTV and FCC licensing concerns and can roam without issue virtually anywhere throughout North and South America.
The X2 XDS-Plus draws its wired sound characteristics from Line 6's patent-pending digital technology. A 24-bit A/D converter at the bodypack transmitter captures the full dynamic range of incoming instrument, line-level or microphone signals, and then transfers them in digital format on two separate RF carrier frequencies. At the metal receiver, two BNC chassis mounted external antennae supply RF signals to two separate receiver sections contained within the chassis to deliver freedom from dropouts, multi-path cancellation, RF interference and noise. This dual-frequency diversity minimizes or eliminates the negative effects of an undesired RF signal, which is essential when considering today's wide presence of cell phones/PDAs, wireless networks and other unforeseen or unknown sources of RF energy. The result is a reliable performance in a multitude of environments.
The entire process takes place without the use of compression/expander (compander) noise reduction I/C's common to analog wireless units. These compander I/C's typically add coloration and distortion, and cause a noticeable modulation of the noise floor. The X2 XDS-Plus system is notably free from all of these artifacts. The result is a frequency response from 10 Hz to 20 kHz, +/- .5 dB (half a dB or less), dynamic range is greater than 118 dB, and a THD of less than .03%. Guitarists and bass players, commonly forced into adjusting their amp or guitar settings to compensate for the gain variations of analog wireless systems, will note how X2 XDS-Plus preserves their tone without need of further adjustment.
Equipped with a multi-segment LED providing instant feedback to all integral system functions, the X2 XDS-Plus components are free from complicated setup procedures and multi-page menus. The metal receiver shows operating channel, diversity status, RF signal, audio level and remaining transmitter battery life in 20-minute increments. The bodypack transmitter shows operating channel, remaining battery life (in five one-hour increments) and audio level when signal is present. Both components offer five user-selectable operating channels.
X2 XDS-Plus includes all necessary antennae, 9V power adapter and batteries.
About Line 6, Inc.
Based in Calabasas, California, Line 6 is a leading manufacturer of guitars, amplifiers, effects, effects processors and recording interfaces. Line 6 is world renowned for its studio- and stage-standard gear featuring its patented amp and effect modeling and digital wireless technologies. Line 6 invented digital guitar amp modeling technology in 1996, and is currently the #1 maker of guitar amplifiers. Its award-winning products, including POD®, are used by musicians worldwide and have been used on countless platinum and Grammy award winning titles. Line 6 is distributed in over 60 countries with operations in the United States, China and the United Kingdom. For more information, visit http://www.line6.com.
Contact:
Krista Shue
kshue @ line6.com
818-575-3824
# # #