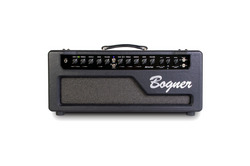 This is the perfect venue for me to discuss my approach, my new relationship with Line 6, and Alchemist, my new amplifier.
Calabasas, CA (Vocus) April 2, 2009
Line 6, Inc. (line6.com), the industry leader in digital modeling technology for music creation products, will present two nights of education, conversation and inspiration with legendary guitar amp designer Reinhold Bogner, as part of Guitar Center's educational series Guitar Center Sessions.
"People always ask me about my amp designs and how I get that sound," remarks Reinhold Bogner, owner of Bogner Amplification. "This is the perfect venue for me to discuss my approach, my new relationship with Line 6, and Alchemist, my new amplifier."
At Guitar Center locations in New York City and Los Angeles, on April 16th and 23rd, respectively, Bogner will indulge audience members with insight into his unique approach to amplifier technology, tones, recording, phasing and more. He will also discuss his on-going relationship with Line 6 and his latest amplifier, Bogner Alchemist™, before answering audience questions and signing autographs. A Bogner Alchemist 112 amplifier will be raffled off at each location.
Alchemist is new territory for Reinhold Bogner and Bogner Amplification. Its attractive price provides the distinctive tone, touch and response of Bogner amplifiers to a broader range of guitarists. Line 6 is the worldwide distributor for Alchemist amplifiers.
A 20-year veteran known for his modern approach to vintage amp designs, Bogner has earned the respect of many influential guitarists. Eddie Van Halen, Steve Vai, Steve Stevens and countless others entrust Bogner with maintaining and custom-building the amplifiers that define their signature guitar sounds.
Guitar Center Sessions is a music-education-based initiative that features informative and provocative panel discussions, hands-on tutorials and an opportunity for musicians to network with their peers. The events are free and open to the public. More information can be found online at http://www.guitarcenter.com/sessions.
Dates, times and locations
Thursday, April 16th – 7pm
Guitar Center Manhattan
25. W. 14th Street
Manhattan, New York 10011
212.463.7500
Thursday, April 23rd – 7pm
Guitar Center Hollywood
7425 Sunset Blvd
Hollywood, California 90046
323.874.1060
About Line 6, Inc.:
Based in Calabasas, California, Line 6 is a leading manufacturer of guitars, amplifiers, effects, effects processors and recording interfaces. Line 6 is world renowned for its studio- and stage-standard gear featuring its patented amp and effect modeling and digital wireless technologies. Line 6 invented digital guitar amp modeling technology in 1996, and is currently the #1 maker of guitar amplifiers. Its award-winning products, including POD®, are used by musicians worldwide and have been used on countless platinum and Grammy-award-winning titles. Line 6 is distributed in over 60 countries with operations in the United States, China and the United Kingdom. For more information, visit http://www.line6.com.
About Guitar Center:
Guitar Center is the world's largest retailer of guitars, amplifiers, percussion instruments, keyboards and pro-audio and recording equipment. Our retail store subsidiary presently operates 214 Guitar Center stores across the U.S. In addition, our Music & Arts division operates more than 100 stores specializing in band instruments for sale and rental, serving teachers, band directors, college professors and students. We are also the largest direct response retailer of musical instruments in the United States through our wholly owned subsidiary, Musician's Friend, Inc., and its catalog and Web site, http://www.musiciansfriend.com. More information on Guitar Center can be found by visiting the Company's Web site at http://www.guitarcenter.com. The Guitar Center logo is a registered trademark of Guitar Center, Inc. Other brand or product names may be trademarks of the respective companies with which they are associated.
About Bogner Amplification:
Bogner Amplification is heralded worldwide for its unwavering dedication to craftsmanship, premium components and rich, robust and responsive all-tube amplifiers. For more information, please visit http://www.bogneramplification.com.
Contact:
Krista Shue
Director of Public Relations
kshue (at) line6.com
(818) 575-3824
###