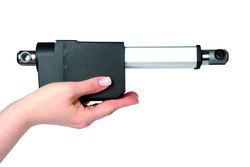 We will settle for no less than perfection in motion and you should not either.
(PRWEB) November 4, 2010
The 2nd of July 2010 LINAK launched the LA23 actuator. In the near future three new features will be added to the product range.
Precise positioning is very important when more actuators run at the same time or simultaneously. The LINAK Hall Pot (hall potentiometer) positioning system provides precise positioning with many advantages. First of all you get a safe positioning system because it has no mechanical wear and thereby a very long lifetime. Furthermore the requirements for control boxes are eased as more intelligence is put into the actuator.
To optimise safety it is possible to build in a spline function. With this option the LA23 will always stop if it meets any resistance.
With the IP66 Dynamic option the actuator can be used in dusty and humid environments. This feature increases the flexibility of the actuator in that it makes it more adaptable to challenging environments.
Due to its small dimensions - a width of only 43 mm and a height of 85 mm - the LA23 actuator can easily be implemented in different applications without taking up too much space. Furthermore, the actuator's low weight supports its usability in relation to mobile applications.
In spite of its small size and low weight the actuator has high lifting power and can push or pull up to 2500 Newton.
The exchangeable cables of the LA23 make it easy to change the cables, without having to replace the entire actuator.
Additionally the actuator has low ampere usage, which means that if it runs with batteries, it does not have to be charged often. Options such as a steel back fixture can be added in order to adapt the actuator to any specific need.
Visit the LINAK homepage for a complete list of linear actuators.
For more information, please contact LINAK.
LINAK is the world leader in designing and manufacturing electric actuators and electronic controls for a variety of applications such as hospital beds, patient lifts, office desks, leisure beds, harvesters and many other applications in the industry.
LINAK is a global company with subsidiaries all over the world and production facilities in Denmark, the USA, Slovakia and China. LINAK employs approximately 1500 employees and has a turnover of around DKK 1.8 billion.
###