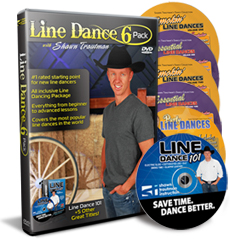 Once you learn these line dances, you'll have no problem getting out and having fun country dancing with everyone else!
Clearwater, FL (Vocus/PRWEB) January 14, 2011
Kick off 2011 by mastering the Electric Slide and Cotton Eyed Joe, and you'll soon be breaking a sweat as you work your way up to the complicated steps of the Hip-Hop Line Dance. Learn these dances and dozens more in the comfort of your own home without having to take lessons in a studio or smoky night club. That's the aim of Dance Videos Direct's most recent release, a 6-DVD country line dance set that takes true beginners through a series of step-by-step lessons that will make keeping your resolution fun and attainable. Health benefits of line dancing include weight loss, improved blood circulation, stronger muscle tone and more.
"The thirty dances taught in this series are hand-selected for lasting popularity, international appeal and dance-ability," says instructor and production developer Shawn Trautman. "Once you learn these line dances, you'll have no problem getting out and having fun country dancing with everyone else!"
It all begins with Line Dance 101, where beginners learn and practice more than thirty steps as a part of several beginner line dances. Party Line Dances come next, and ultimately the course culminates with the Essential series, which introduces some of the most sought-after line dances in easy-to-understand lessons. Once you've become a line dance master, challenge yourself with the Smokin' series, where you'll be introduced to longer, tougher line dances.
Now available, the Line Dance 6-Pack includes the number one rated and best-selling titles Line Dance 101 and Party Line Dances, as well as Essential Line Dances Volumes 1 & 2, and Smokin' Line Dances Volumes 1 & 2. Unlike other learn to dance DVDs that necessitate rewinding in order to achieve mastery, these lessons teach the building blocks of line dance in a sequential manner that appeal to the young, Baby Boomers, and Seniors alike while incorporating plenty of practice time.
"Line Dancing keeps you sharp as your brain stays active. You have no choice but to improve connections while improving your balance and control – all while having fun socially," Trautman says.
The Dance Videos Direct label aims to provide dance lessons to people of 'all ages and all stages.' The brainchild of longtime dancer Shawn Trautman, Dance Videos Direct offers dozens of dance lesson DVDs worldwide and is set to release many more in the near future. For more information on the Line Dance 6-Pack, please visit http://www.shawntrautman.com. To learn more about carrying Dance Videos Direct products in your retail location, library, school, or other, please visit http://www.dancevideosdirect.com. Contact Shawn Trautman directly by selecting Shawn Trautman Dance Lessons on Facebook or call 727-738-1145.
###