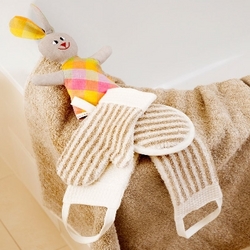 This item is so soft, warm and cozy that your child will love to wear it after a bath, shower or sauna!
Kaunas, Lithuania and Woodside, Calif. (Vocus) July 31, 2009
Those long, hot summer days and lots of outside play mean more baths and showers for children. At least that's what mums would like. To give kids a bit more bath-time independence, LinenKids.com has expanded its line of linen bath time accessories, including terry towels, waffle-weave towels, scrubbers, sponges and mitts -- all specially made and sized for kids from natural, sustainable Lithuanian linen. Jurate Stanisauskiene, founder of LinenKids and mother of two boys, picks a few of her favorite items from her new Bath-Time Collection, which make great, healthy gifts.
1. Natural waffle-weave linen towel: "This towel is big enough to wrap up your kiddie and is so soft and absorbent. It has a handy loop for hanging on a hook, and is available in five sizes."
2. Linen kids' back scrubber: "It's hard for kids to wash their backs, and products designed for adults are too abrasive for them. This scrubber is made for little ones to scrub their back themselves -- it's soft on the skin and does the job nicely."
3. Linen kids' bath mitt: "I think a mitt is the best way to encourage bath-time independence. This mitt matches our back scrubber and has an elastic band sewn inside so it stays on during use."
4. Hooded linen bath robe: "This item is so soft, warm and cozy that your child will love to wear it after a bath, shower or sauna!"
5. Bath time essentials: "This is a bundle of all of my favorites -- the back scrubber, the mitt and the sponge -- all made from pure, soft linen. Learning to get clean can be fun!"
LinenKids is the culmination of a 4-year odyssey
Four years ago, Jurate Stanisauskiene was looking for unique, natural and beautiful products for her first son. She ran across locally produced linen products, liked the cool, smooth feel of the fabric, and on a whim bought an outfit for her child. "I immediately noticed that he was much happier and calmer when wearing linen. I did a little more research into traditional Lithuanian linen and learned that it's made from special flax that yields a linen that of much higher quality than the fabric typically used in factory-made clothes." LinenKids is the evolution of that initial idea, and aims to introduce parents worldwide to beautiful Lithuanian linen.
Useful links

About LinenKids
LinenKids of Lithuania make clothes with soul for kids -- locally made items that are exclusive to its website, and appeal to the tastes of parents who want to support traditional, sustainable products and prefer custom and vintage kids' clothes. It features carefully selected boys' linen outfits and girls' linen outfits; linen outfits for Christenings and special occasions; one-of-a-kind linen toys; and linen bathroom and bedroom products. LinenKids clothes, accessories, toys, and bed/bath items are made individually or in small batches by craftswomen who love what they are doing and want to share their traditions. http://www.linenkids.com
# # #