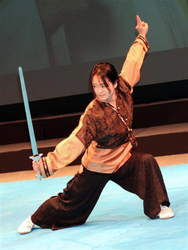 In my eyes, she has no limits
Los Angeles, CA (PRWEB) August 24, 2007
Julia Ling, who plays Anna Wu on NBC's new hit show Chuck, is determined to prove she is more than just another pretty face in Hollywood. On June 15, Ling competed as one of ten finalists in the Los Angeles Region of Jackie Chan's Disciples competition, which has drawn more than 200,000 applicants from around the globe. Not only was she selected as one of six winners to represent the United States in the next stage of the competition in Beijing, she also won the Best Acting award for her performance.
The North American final, held in Los Angeles, was designed to showcase the aesthetic beauty, as well as the martial-arts prowess, of the contestants. To achieve this goal, Ling performed two dramatically contrasting pieces: a traditional Chinese dance in the Dun Huang style, and an emotionally charged, choreographed sword battle.
"I wanted the dance to be beautiful...heavenly, ethereal, graceful," says Ling, who studied the artwork of Dun Huang to prepare for the performance. "The elegant poses of the women Dun Huang drew gave me a reference for what I needed to look like during the dance."
The following performance, a choreographed sword battle in the Wushu style, could not have been more different, emphasizing the strength, endurance and violence so often associated with martial arts. But simply performing the movements was not enough for Ling.
"I created a back-story so the performance would have more depth. When I come on stage, I am already breathless, desperate and shocked, pursued by the men who have murdered my family," she explains. "By the end of the performance, all of the men are dead, and I have found a new determination within myself to continue living."
Woody Wong, head instructor at WushuStar Martial Arts Academy and the event's Western USA Co-Organizer, believes that Ling's ability to bring emotion to her performance is responsible for earning her the Best Acting award.
"She's special," Wong says. "She brings a clear point of view to the performance and she approached both her dance and the martial arts piece based on creating a story and a character. One moment she's delicate, sweet, and heavenly as she dances ... like a dream. The next moment she's fierce, steely cold and expressing grief all at the same time."
Acting is not a talent that came naturally to Ling, at first. "I was a terrible actress when I first started," she remembers. "I was all about big facial expressions and reciting lines. But I said to myself, 'I want to be the greatest actress I can be.' I devoted all of my time to learning, and I kept a daily acting journal in which I recorded all of my observations. I learned I had to give my character the right to live."
That same level of discipline and confidence served Ling well while preparing for the Disciples competition. "I learned about the competition with only a month to prepare, so there wasn't much time. But it's my dream to work in action movies, to showcase the emotions behind the movements, so I immediately registered."
Preparing for the event, Ling practiced between six and seven hours every day. "There were several injuries, and sometimes I was so sore I couldn't walk down the stairs," she remembers. "In the end, the extraordinary support I received from my family and friends inspired me to keep going. I just didn't want to let them down."
Wong, who helped Ling and other contestants prepare for the competition, declares Ling is "professional, determined and disciplined...she brings a wonderful enthusiasm and passion to her work, and she's creative and soulful."
"In my eyes, she has no limits," he says.
With the next phase of the competition, scheduled for late September, rapidly approaching, Ling continues training at a grueling level. How does she feel about the taking it to the next level?
"In Beijing, I'll be representing the United States. My parents came to America from China, and my cultural heritage is very important to me. But I was born in America, and I consider myself an American first," Ling says. "I want to show them that even though everything else may be made in China, only the best are from the USA."
# # #