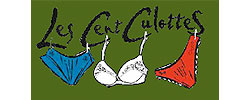 San Francisco, CA (PRWEB) February 26, 2013
Les Cent Culottes recently added Maison Lejaby to the list of lingerie and intimate apparel collections in their boutique. Located in Russian Hill of San Francisco, Les Cent Culottes is a boutique, sexy lingerie shop featuring exclusive women's underwear, undergarments, and beauty products. Les Cent Culottes proudly features intricate lingerie from France's most luxurious garment manufacturers.
Maison Lejaby is an innovative lingerie brand, designed and manufactured in France. Since their inception in 1884, Maison Lejaby, also known as Lejaby, has been creating luxury swimwear and undergarments for women. Maison Lejaby has a new line of haute couture lingerie and a luxury line of corsetry and beachwear designed to flatter and entice. Les Cent Culottes is now carrying the collection in their shop.
In addition to this new collection, Les Cent Culottes offers a wide selection of sexy lingerie to suit all occasions from the everyday to the most intimate moments. Les Cent Culottes also features brands such as Simone Perele, Aubade, Lise Charmel, Lejaby, Barbara, Lou, Chantelle, Huit, Teccia / Canat, Calida, Addiction and many more.
For more information about Maison Lejaby or Les Cent Culottes, call (415) 501-9211 or visit Les Cent Culottes at 2200 Polk Street.
About the company:
Les Cent Culottes is an upscale lingerie shop in San Francisco featuring undergarments from some of the finest manufacturers in the world. They feature a number of exclusive brands, undergarments, and sleepwear that cannot be found anywhere else in the United States. Les Cent Culottes is located in Russian Hill on 2200 Polk Street, San Francisco, CA 94109. For more information about Les Cent Culottes, please call (415) 501-9211 or visit the website: http://www.lescentculottes-sf.com.