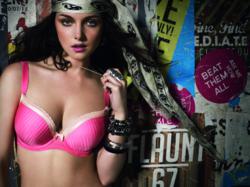 Cybher is a unique opportunity that we hope will allow us to network with influential, fashion and social-savvy women.
Desborough, Northamptonshire (PRWEB) May 11, 2012
Over 400 of the UK's most fashion-savvy bloggers and parent bloggers will make their way to the inaugural Cybher event. Freya will be present at the event to showcase their Spring/Summer 2012 lingerie and swimwear collections in sizes from an A to a K cup.
In addition to showing their latest designs, Freya will have a team of expert bra fitters standing by to offer guests a professional fitting at the Freya Bra Booth. The fitters will be providing expert advice too, which is all part of Freya's ongoing campaign to raise awareness of the importance of wearing a perfectly fitting bra and maintaining good breast health.
Ann-Marie Manley Head of Marketing described how the Freya team saw the chance to become involved with Cybher as an important partnership for the brand. She said, "Connecting with bloggers is something of deep interest to us, so we are really excited to be taking part in Cybher. We've taken part in a few events this year, however Cybher is a unique opportunity that we hope will allow us to network with influential, fashion and social-savvy women."
Sian To, Founder of Cybher added: "We are so proud that Cybher can offer such a variety of workshops and activities for our bloggers to enjoy and engage with. Attendees want to connect with brands and they are looking to build relationships with them, which reflect their own key values as women. We'd like to thank Freya for sponsoring Cybher and we are sure their collections and bra fitting experience will be a success."
All the latest news from Freya at Cybher will be available to follow live on Facebook.com/Freyalingerie and #Freyalingerie
About Freya
Freya design and manufacture lingerie, loungewear, swimwear and sports bras especially designed to offer fit and support for women with larger bust sizes. Available up to a K cup, Freya offers balcony, plunge and strapless bra styles. Based in Northamptonshire, UK, Freya is part of the global Eveden Group, home to a number of lingerie and swimwear brands specialising in larger cup sizes. For more information about Freya please visit freya.com or email press(at)freya(dot)com