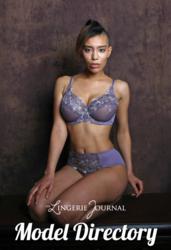 We want to help Lingerie Models find their next project by giving them a free platform to post and promote their profiles.
new york, ny (PRWEB) May 07, 2013
The Lingerie Journal launched a new lingerie model directory this month with the aim of helping lingerie models find their next project by putting them in front of industry professionals.
"The Lingerie Journal is read by everyone in the lingerie industry and our hope is that we can help models find new projects by giving them a free platform to post and promote their profiles," said Luis Paredes, publisher of the Lingerie Journal.
The Lingerie Model Directory is free to use for both models and anyone looking to book a model for their next shoot. Models can upload all their details including an image gallery using an online form: http://thelingeriejournal.com/lingerie-model-directory/
As new models are added to the directory, their profile appears on the Lingerie Journal's homepage.
"We also promote the new model entries on our social media sites as well," said Paredes. "With a global reach of over 10,000+ combined followers, it's a great way to get some exposure."
The Model Directory compliments the website's Wholesale Lingerie Directory and has helped established the Lingerie Journal as a powerful B2B platform for the brands, designers and models showcased on TLJ.
About The Lingerie Journal
The Lingerie Journal is the number one online lingerie trade publication in the United States reaching hundreds of consumers, buyers, lingerie retail store owners, independent lingerie designers, wholesale manufacturers, influential lingerie bloggers, and other intimate apparel professionals (as well as those in related fields) on a daily basis. Follow and interact with the Lingerie Journal on Twitter to learn more and keep up on the latest lingerie news and lingerie trends @lingeriejournal.