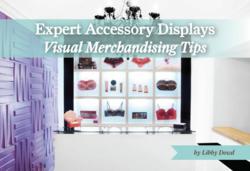 "Retailers can incorporate add-on items into feature displays to create more visual interest among customers and increase their average transaction."
New York, NY (PRWEB) December 31, 2012
The Lingerie Journal recently released a new retail advice column on Expert Accessory Displays aimed at helping lingerie retailers incorporate add-on items into feature displays to create more visual interest among customers and increase their average transaction.
The new retail advice column by Libby Dowd pulls together advice from visual merchandising expert and founder of Interior Elements, Leslie Groves.
The tips range from how to incorporate delicate washes like Eucalan to leveraging apparel and hosiery at a retail setting. Some of the advice comes directly from lingerie manufacturers like Baci Lingerie.
In the article, for example, Baci Lingerie's Joy Menon recommends a less is more approach to displaying small accessories: "A small grouping of products also creates a sense of demand," she notes.
The Expert Accessory Displays article has already received a huge amount of traffic and a great response from the lingerie retailers noted Luis Paredes, publisher of the Lingerie Journal. The article is part of an ongoing series of Lingerie Retail Advice columns.
The full article can be read here: http://thelingeriejournal.com/expert-accessory-displays/
Paredes noted that a few more Lingerie Retail Advice columns are already in the works for early 2013 along with some new Lingerie Trend columns.
About The Lingerie Journal
The Lingerie Journal is the number one online lingerie trade publication in the United States reaching hundreds of consumers, buyers, lingerie retail store owners, independent lingerie designers, wholesale manufacturers, influential lingerie bloggers, and other intimate apparel professionals (as well as those in related fields) on a daily basis with lingerie news and lingerie trends. Follow and interact with the Lingerie Journal on Twitter to learn more @lingeriejournal.