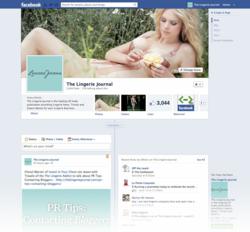 We want to help wholesale buyers make the best decisions for their store by expanding our coverage of upcoming lingerie trends
New York, NY (PRWEB) September 28, 2012
Keeping up with upcoming trends in the lingerie industry is difficult enough with daily changes in both consumer and wholesale buyer tastes, so lingerie news website, TheLingerieJournal.com has expanded coverage of current and upcoming trends on the publication's website.
"We want to help wholesale buyers make the best decisions for their store and expanding our coverage of upcoming trends and properly categorizing them on our website, will help make their lives easier," said Luis Paredes, publisher of the Lingerie Journal.
Attending trade shows like the International Lingerie Show (ILS), CURVE and others also helps the writing team at TLJ develop insights into what designers and brands are offering for the coming year.
At CURVENY, for example, there was a huge emphasis on color and color blocking with brands like Claudette offering a variety of color options from soft pastels to prints for retailers and their customers.
At the most recent edition of the International Lingerie Show where buyers can find more provacative brands and a variety of pleasure products, the color trend was turned up a few notches with Neon.
The Lingerie Journal's new spin-off publication, The Business of Pleasure, which covers more adult retail news, covered some of the brands at ILS as well.
BodyZone Apparel rolled out its aptly named Neon Explosion at the ILS show while new pleasure product company Maia Toys incorporates bold colors and neons into its line of massagers. Even sexy shoe company, Reflection Shoes, has added neon stripes and bursts into its collection. Many of the brands' neon glows under black light as well.
"We're looking forward to the next round of shows to cover more trends for our readers," said Paredes.
With hundreds of emails pouring into the publication's email from brands and designers each month, Paredes noted that coverage of upcoming trends will only get better and more in-depth with the coming weeks and months.
In related news, the Lingerie Journal has reported an increase in consumer interest in the trade publication's features and news. The Power of Lace by Katrina Eugenia and other feature pieces geared towards both consumers and buyers have helped the Lingerie Journal expand its reach in both arenas. "It's a powerful mix of an audience," said Paredes.
One of the most popular articles this year was a guest post from Liz Black the fashion copywriter and editor for BareNecessities.com and BarePlus.com that outlined Bra Trends. The article featured insights for women on what types of bras would be best for them in terms of style, fit and budget.
Looking towards 2013, Paredes alluded to even more coverage and developments for his publications. "We promise to make 2013 a huge year for our readers," said Paredes.
About The Lingerie Journal
The Lingerie Journal is the number one online lingerie trade publication in the United States reaching hundreds of consumers, buyers, lingerie retail store owners, independent lingerie designers, wholesale manufacturers, influential lingerie bloggers, and other intimate apparel professionals (as well as those in related fields) on a daily basis with lingerie news and lingerie trends. Follow and interact with the Lingerie Journal on Twitter to learn more @lingeriejournal.