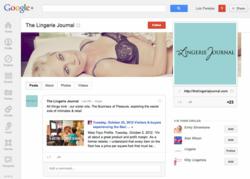 The Lingerie Journal has over 7,000 combined followers and fans on its social media accounts reaching thousands of viewers every week
New York, NY (PRWEB) October 30, 2012
Keeping with its growing social media success, the Lingerie Journal recently launched a Google plus page and Pinterest account as part of its growing social media offering for its readers.
"We've experienced tremendous success sharing the latest lingerie news, lingerie trends on Facebook and Twitter and want to provide even more coverage for the brands we cover on Google Plus and Pinterest," said Luis Paredes, publisher of the Lingerie Journal.
Paredes noted that features like Katrina Eugenia's Power of Lace and a recent Bridal Buying Guide have become some of the most shared features on the publication's social media sites.
The online lingerie news publication has over 7,000 combined followers and fans on its social media accounts.
About The Lingerie Journal
The Lingerie Journal is the number one online lingerie trade publication in the United States reaching hundreds of consumers, buyers, lingerie retail store owners, independent lingerie designers, wholesale manufacturers, influential lingerie bloggers, and other intimate apparel professionals (as well as those in related fields) on a daily basis with lingerie news and lingerie trends. Follow and interact with the Lingerie Journal on Twitter to learn more @lingeriejournal.