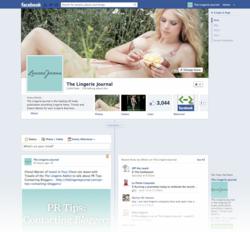 "The best part of our social media activity is how involved it allows us to become with our readers."
New York, NY (PRWEB) June 19, 2012
With a combined social media following of over 5,000 buyers, press and consumers around the world, lingerie news site the Lingerie Journal witnessed exponential growth and reach in the last three months.
Paredes credits social media with the Lingerie Journal's status as the most popular online lingerie trade publication in the United States according the independent website ranker Alexa.com.
"Almost half of our website traffic comes from Facebook, Twitter and Pinterest," noted Luis Paredes, publisher of the Lingerie Journal. "The best part of our social media activity is how involved it allows us to become with our readers."
Paredes explained that through the publication's Twitter handle, @lingeriejournal, he and his team of writers keeps up a steady conversation with brands, retailers and consumers every day.
"It's delicate balance of being informative, entertaining and engaged with our audience - an artform that we are constantly working at," said Paredes. "Many of the exclusive interviews and news items we publish start with a Twitter conversation or follow."
On Facebook, the Lingerie Journal's Facebook page has seen tremendous success in helping lingerie brands and designers reach buyers by sharing the stories, videos, and photos the TLJ team creates.
"We are not a press release factory. We've been successful because we create great content, help retailers and brands with informative articles and share with the world our love of lingerie," said Paredes.
A new addition to the site's social media portfolio is Pinterest. "It's a new site for us, but we've already seen a lot of traffic from the followers we've earned there," said Paredes.
Paredes noted that because the Lingerie Journal relies so much on visuals to tell stories, Pinterest is naturally becoming a favorite amongst his team of writers to share photos with readers.
The Lingerie Journal shares content on LinkedIn and Google+ and on additional profiles for the publication's lingerie trade show for Independent Designers, the Lingerie Designer Showcase and the publisher's own personal twitter profile @LuisParedesTLJ.
Regarding his site's global reach, "Our social media following only shows part of the story. We have a database of buyers, press and consumers from around the world tipping over 15,000 - and growing."
Paredes promised to reveal new developments for the Lingerie Journal in the coming months to showcase the site's growing influence and popularity.
About The Lingerie Journal
The Lingerie Journal is the number one online lingerie trade publication in the United States reaching hundreds of consumers, buyers, lingerie retail store owners, independent lingerie designers, wholesale manufacturers, influential lingerie bloggers, and other intimate apparel professionals (as well as those in related fields) on a daily basis. Follow and interact with the Lingerie Journal on Twitter to learn more @lingeriejournal