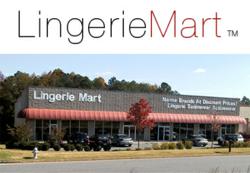 the main reason attributed for this year's explosive surge is their continuing excellence in customer service and providing the highest quality products at the lowest prices online and onsite at their Alpharetta, GA store
Alpharetta, GA (PRWEB) April 19, 2013
Established in 1997, Lingerie Mart has sold wholesale and retail lingerie to tens of thousands of customers from all over the world. Their Atlanta warehouse is open to the general public every day, Monday - Saturday. As compared to last year, first quarter 2013 sales have risen to all time record levels.
Steven Rapp, CEO of the Alpharetta, GA operation, says that Lingerie Mart is a worldwide wholesale lingerie distributor of intimate apparel at off-price and below wholesale prices. They distribute worldwide all types of name brand 1st quality lingerie. Types of products they sell include sexy lingerie, bras, panties, thongs, robes, sleepwear, fajas, bodyshapers, and more. In addition, they maintain one of the largest lingerie warehouses in North America open to the public.
Lingerie Mart offers a complete source for wholesale lingerie. They supply all types of business venues including traditional lingerie stores and boutiques, retail stores, discount and flea market type outlets, home party businesses, EBayers, mass distributors and other various websites. Lingerie Mart is also a major fulfillment center for some of the world's largest online retailers. Steven Rapp says that they appreciate customers and orders of all sizes, which contribute to the ongoing success. Whether your product needs are large or small, they welcome all orders and buyers from all countries. Their professional, friendly and experienced customer service team is ready to help you, while their state-of-the-art shipping department processes orders in a quick and efficient manner.
Rapp attests the main reason attributed for this year's explosive surge is their continuing excellence in customer service and providing the highest-quality products at the lowest prices online and onsite at their Alpharetta, GA store which is open to the public Monday - Saturday.
To get complete store hours or make a purchase online, visit http://www.lingeriemart.com.