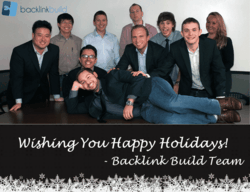 30% OFF Coupon: "HOLIDAY2012"
Little Ferry, New Jersey (PRWEB) December 20, 2012
Backlink Build (http://www.backlinkbuild.com) has just announced their 30% sale for the 2012 holiday season. The discount started on December 20th and will expire on January 1st, 2013.
Link building is a crucial part of search engine optimization (SEO). With 2012 coming to a close, many businesses are looking towards link building to get a good start for 2013. Link building not only helps increase search rankings, it could also be a great source of referral traffic.
Backlink Build's 30% off discount can be applied to items already on sale. For example, the Guest Blog Posting service is originally priced at $750 but is now on sale for $600. The additional 30% off discount brings the price down further to $420. This buys you three published guest posts. Purchasing 24 guest posts gets the price down even further to $70 per post.
Backlink Build currently offers 16 diverse link building services. The services have been updated several times, including a major overhaul after Google's penguin updates. All links are now placed manually and white hat practices are followed at all times.
Take advantage of Backlink Build's sale by visiting: http://www.backlinkbuild.com/linkbuildingservices. Enter coupon code "HOLIDAY2012" at checkout to receive 30% off.
For businesses that are not ready or unsure about link building, a Website SEO Audit is the perfect place to start. Backlink Build offers audits for free to eligible businesses. Call (201) 870-6000 to learn more.