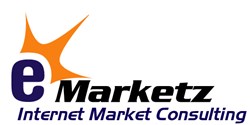 A million websites will finally see a ray of hope for augmenting their online marketing, with the launch of Reliable Link Building services at 50% discounted rates
Albany, Newyork (PRWEB) May 01, 2012
A million websites will finally see a ray of hope for augmenting their online marketing, with the launch of Reliable Link Building Services at 50% discounted rates. This respite comes from EMarketz India Pvt Ltd, an online marketing and branding Solutions Company, based in New Delhi, India. After Google went on a de-indexing rampage of blog networks, amounting to cancellation of links, this service guarantees credibility for websites at affordable rates and promises to build trust again with Google for your website or blog. Visit the http://www.youtube.com/watch?v=e1Cj1_tqh9M for Link Building Services.
The introductory pricing of the service, at a discount of 50 present, is too good to be true. This lucrative offer has created a buzz in the market, as people are choosing the best package for their websites. For backlinks, the packages are demarcated as starter package, quick rank links, top rank links, and authority links. The standard charges for the packages range between $225 and $1675, on which the customer will avail a further 50% discount. The services are also classified according to the duration, which can vary from 3 months to 14 months. The customers can avail the discounted packages for all types of link building services. In this service, EMarketz will try to remove your Blog Network links and will build manual links for your website which will look 100% natural to Google and will have enough link juice to power up your SERP's.
It is natural for websites to be wary after they had to kill thousands of links, as Google hunted down 'unnatural' links. Acknowledging the fear of the website owners, EMarketz has left no stone unturned for ensuring a safe and high quality link building service, without any manipulation. The use of unique C class IP's goes a long way in enhancing the safety of the links created.
Moreover, there are certain distinguishing features of Reliable link building service:

The links are built on authority websites, which have a page rank of more than 5.
Cautious selection of the host sites enables optimum benefit from the link, known by the term 'link juice'. The lesser the outbound links, the higher will be the share of profit that a client will get from a link.
Article submission, Social bookmarking, Blog posting and commenting are some of the activities that reap maximum gains.
Manual link creation and in house quality check team.
Absolute zero spamming.
Spams, unnatural anchor text and link profiles, were a key reason behind Google's recent crackdown. EMarketz claims that the search engine will not scent anything objectionable in the links that reach its client's website.
The scope of the Reliable Link Building Service is augmented by the fact that images and videos can also be included in the links and the packages can be customized. EMarketz assigns a dedicated account manager, who presents a detailed report after the package is complete. There is a focus on constant supervision, to maintain the sanctity of the service, executing the task within Google's guidelines.
The links are created on a long-term basis and are permanent. This means that a website owner does not need to renew the subscription. One time, original, one way links creation is what makes this service truly reliable for achieving high rankings.
About the Company:
EMarketz India Private Limited is head quartered in New Delhi, India and offers a wide range of internet marketing services. From Fortune 500 companies to small businesses and start-ups, EMarketz handles a variety of clients and has customized services for all needs. Effective utilisation of online marketing strategies to enable the clients grow their business is the strength of EMarketz. The in-house SEO research team helps the company stay abreast with the changing search engine algorithms and create strategies accordingly.
Visit http://www.emarketz.net to know more.
To contact EMarketz, call at +91-11-41558530 or drop a mail to sales(at)emarketz(dot)net