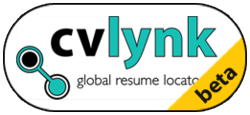 "Cvlynk removes international barriers and the hassle of finding your LinkedIn profile." - Ray Kasbarian, founder and CEO of Cvlynk
PALO ALTO, Calif. (PRWEB) December 09, 2011
LinkedIn, currently the world's largest professional online network, recently reached more than 135 million members in over 200 countries and territories. While there are countless connection opportunities, it can be a challenge to ensure that your profile is easily reached on the Internet. LinkedIn users can now simplify profile sharing with the help of Cvlynk (http://cvlynk.com), the free global connection engine and redirect service that simplifies and accelerates profile sharing.
With so many people on the LinkedIn network, searching for a contact can yield long and frustrating results. For example, when "John Smith" is entered in LinkedIn's search engine, the search pulls up 33,369 profiles from people all around the world. Naturally, this can make easily finding the profile of an individual with a common name nearly impossible. Cvlynk allows career professionals to bypass the search and link professionals to their preferred online profile in one easy step.
To establish a connection to your LinkedIn profile with Cvlynk, users only need to provide their contacts with one of three Personal Digital Indexes™ (PDI). Cvlynk allows users to link their profiles to their mobile number, email address, or Twitter ID. Career professionals already have at least one of these PDIs on their business cards, so redirecting contacts with that unique index provides for quick LinkedIn profile sharing.
For those career professionals who are involved in international business, connecting to LinkedIn via Cvlynk is the perfect solution. Fifty-nine percent of LinkedIn members are currently located outside of the United States. Regardless of whether an international contact has an account with LinkedIn, they can easily be redirected to a LinkedIn profile via Cvlynk without having to navigate an unfamiliar site.
"Cvlynk removes international barriers and the hassle of finding your LinkedIn profile," said Ray Kasbarian, founder and CEO of Cvlynk. "When connecting with other professionals, simply exchanging business cards with allows for an easy and efficient route for you to connect your preferred professional profile."
Profile accessibility is key for career professionals. Cvlynk not only ensures that the correct profile can be found quickly, but their unique, one step connection ensures that confusion and frustration are left out of the profile sharing equation.
About Cvlynk.com
Founded in 2011 and headquartered in Palo Alto, Calif., Cvlynk answers the question "Where Can I Find You On The Web?". The company is developing many additional applications that will be built around its breakthrough, patent-pending, one-step connection methodology that links Personal Digital Indexes™ to online profiles and other data. For more information, visit http://cvlynk.com.
###