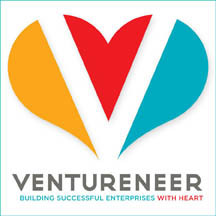 As with all networking tactics. they have to be used efficiently and in combinations with other tools to create a unified strategy. LinkedIn affords a consultant a powerful tool to better garner new clients, new projects and new connection when used effectively
New York, NY (Vocus) September 16, 2009
LinkedIn is a powerful marketing tool for consultants and freelancers, if used correctly ... and fully. In this free, interactive webinar hosted by Ventureneer, participants will learn the ins and outs of LinkedIn, a multi-faceted tool, and how it gives small businesses visibility, connections, a solid online reputation, and a top spot in search-engine results.
"Ah-ha" moments have been reported from this presentation.
For consultants, freelancers and owners of small businesses, this webinar will be an eye-opening next step in making LinkedIn but one more tool for consultants and freelancers to further their network marketing reach. "Effective networking is critical to the growth of small and independent businesses," says Geri Stengel, founder of Ventureneer. "This is an opportunity to learn new ways to network."
"As with all networking tactics. they have to be used efficiently and in combinations with other tools to create a unified strategy. LinkedIn affords a consultant a powerful tool to better garner new clients, new projects and new connection when used effectively," said Marc Halpert, the presenter.
Marc Halpert, managing partner of Your Best Interest LLC and e-giving, has the key. He will add contributed tips form friends and colleagues called "The Proper Care and Feeding of LinkedIn," as he puts it, from optimizing one's private profile to becoming a recognized online expert, from networking with peers to connecting with the wide world of the web through blogs, tweets, and online presentations.
Halpert operates two electronic payments businesses, speaks publicly on the best cash flow strategies and teaches finance and business courses at University of Phoenix.
The FREE webinar LinkedIn for Consultants and Freelancers or How to Keep the Project Pipeline Fuller will take place Tuesday, October 6, from 2 to 3:15 p.m. ET. It is one of a series of webinars hosted by Ventureneer to give freelancers, consultants and entrepreneurs the tools to grow and succeed.
To learn more about or register for the webinars, visit http://www.ventureneer.com.
About Marc Halpert
Marc Halpert has been recognized for client service and is a frequent speaker at national, regional and local conferences for small businesses and not-for-profits. He has also authored articles on innovations in cash flow technologies. He serves as Lead Instructor and Area Finance Chair at the University of Phoenix's Fairfield County on-ground campus, where he teaches finance, management, human geography and business ethics courses. Since leaving corporate treasury eight years ago, he has started two companies offering specialized paperless electronic payment services to optimize cash flow and speed of collections to retailers, small- and medium-sized businesses (Your Best Interest LLC) and professional and membership groups, and not-for-profit organizations (e-giving).
About Geri Stengel
Geri is founder of Ventureneer, an online education and peer support service. An adjunct professor at The New School, she honed her online experience at companies like Dow Jones and Physicians' Online. Geri co-founded the Women's Leadership exchange and is president of Stengel Solutions, a consulting service for social-impact organizations.
About Ventureneer
Ventureneer.com is a new approach to learning: a blend of traditional, formal instruction with informal, peer learning using Web 2.0 technology to capture and share knowledge. Ventureneer's customized blogs, virtual classes, peer-to-peer learning, coaching, web events and articles help entrepreneurs make faster, better decisions for their enterprises.
# # #