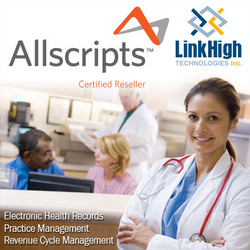 The government has set aside $19 billion in healthcare stimulus incentives to help physicians adopt electronic health records in their practices. With early adoption, physicians will be eligible to receive the full funding of $44,000 to $64,000 in addition to the existing 2% of e-Prescribing and PQRI initiatives
Denville, NJ (PRWEB) September 22, 2009
Link High Technologies announced today that it has become a certified partner and reseller of Allscripts MyWay, an integrated Electronic Health Record (EHR), Practice Management (PM) and Revenue Cycle Management solution to small and mid-sized physician practices throughout New Jersey.
"We're very excited to align ourselves with Allscripts to offer their MyWay EHR solution. Their passion and dedication to providing a quality product, both in software and support, as well as their solvency, were large determining factors in choosing an EHR provider to partner with. Allscripts is a proven leader with over 25 years in the industry and they're here to stay," said Victor Liu, president of Link High Technologies. To date, Allscripts solutions have been adopted by over 150,000 physicians, over 700 hospitals and nearly 7,000 post-acute and homecare organizations.
AllScripts MyWay is an integrated, comprehensive "right-sized" solution that gives small practices and even solo practitioners the key application features and functions necessary for Electronic Health Records (EHR), Practice Management (PM) and Revenue Cycle Management. Allscripts MyWay was designed with the smaller practice in mind, offering a feature-rich, customizable solution that's easy to use at a price point that's affordable and appealing to physicians in the small to medium space.
"Independent physicians and small groups are looking for a way to enter the electronic healthcare highway with affordable costs, minimal IT investment and management requirements, and with a product that is easy to learn. We believe our hosted MyWay electronic health record offering is the right answer at the right time," said Kelley Schudy, Vice President of Channel Sales for Allscripts.
Also available as an on-premise solution, Link High Technologies, a Microsoft Certified partner with an Advanced Infrastructure Competency, can provide the entire infrastructure, as well as procurement and IT management services. With over 17 years in the IT industry and dozens of clients in government, local municipalities, police departments and financial institutions, Link High Technologies has a vast amount of experience in network security and data protection.
"The government has set aside $19 billion in healthcare stimulus incentives to help physicians adopt electronic health records in their practices. With early adoption, physicians will be eligible to receive the full funding of $44,000 to $64,000 in addition to the existing 2% of e-Prescribing and PQRI initiatives," said Victor Liu. The Office of HHS is encouraging early adoption of EHR as full funding will be dispersed over five years beginning 2011; however, physicians must demonstrate a full year of meaningful use of a CCHIT-certified solution, such as Allscripts MyWay. Adoption thereafter will result in decreased funding. Link High Technologies is providing physicians with Hi-tech Stimulus Act funding information to help provide clarity about the criteria needed for funding as well as the funding timetable.
About Link High Technologies, Inc.
Since 1992, Link High Technologies has been providing reliable, affordable, no-nonsense technology solutions to a widely diversified client base in government, education, finance, title, healthcare, research and manufacturing. For more information about Link High Technologies, please visit http://www.linkhigh.com or call (973) 659-1350.
###