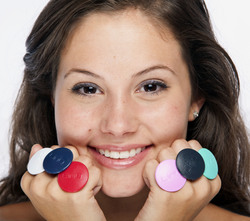 We didn't create just another carry solution; LinQ is a use solution, and while technology puts the world in the palm of your hand, LinQ helps you keep it there."
Richmond, VA (PRWEB) March 16, 2011
Hand Holdings, LLC a developer of innovative accessories for mobile phones, iPods and MP3 players has introduced LinQ®, the simple little solution to a big problem – dropped and broken mobile phones. "We've all seen someone chase their mobile as it skips across the floor or sidewalk. In fact we've chased a few ourselves", explains Hampton Carver, Managing Member of Hand Holdings, LLC. "That's why we created LinQ". The result is an intuitive feeling of security and control making mobiles more comfortable to use and protect without a bulky case or rubbery skin.
LinQ is an evolutionary accessory that makes one handed mobility a reality by providing secure one-handed use of mobile phones, iPods and MP3 players. To use, simply stick LinQ to the back of a device, slide it between two fingers and experience connectivity as it was meant to feel; safe and secure, in the palm of the hand. LinQ is an ergonomic tool that accentuates haptic feedback and enhances tactile function.
Soft, strong and detachable, LinQ offers consumers many ways to personalize their mobiles by choosing from several colors and designs including collegiate, entertainment and fashion graphics. Other great features include LinQ's ability to stand mobiles at just the right angle for hands-free viewing of videos and mobile TV; and for those runners wanting a bit more security, LinQ keeps mobiles close and secure in the palm of the hand. When not in use LinQ'd mobiles will comfortably disappear in one's pocket or purse. These unique features will attract youthful consumers looking for a better way to stay connected to their mobile life.
While many existing carry solutions are variations of a common theme, LinQ offers a fresh, fun alternative. Carver concludes, "We didn't create just another carry solution; LinQ is a use solution, and while technlogy puts the world in the palm of your hand, LinQ helps you keep it there."
LinQ is made in the USA and is currently for sale at http://www.LinQme.com. Prices are $9.95 - $11.95 plus S&H. Retail availability dates have not been released. For additional information please contact Hampton Carver at hampton(at)LinQme(dot)com.
About Hand Holdings, LLC
Hand Holdings, LLC is an American product design and development company working to help you feel the connection to the Mobile Life. Our team possesses domestic and international experience in product development, manufacturing and marketing. Partnerships with world class U.S. manufacturers along with our global reach, enables Hand Holdings to place innovative products like LinQ in the hands of mobile consumers worldwide. Additional information is available at http://www.LinQme.com. LinQ® is a registered trademark of Hand Holdings, LLC. LinQ is patented.
# # #