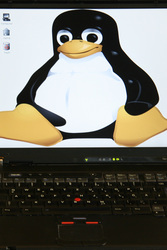 (PRWEB) November 24, 2008
TuxMobil, the largest current web directory of Linux and mobile hardware, announced this month that it has surpassed the unrivaled milestone of 8,000 different installation guides in one place to help users install Linux on their laptop and notebook computers.
More and more, companies and individuals are realizing that Linux is a simple, fast and safe operating system to use on their laptops and notebooks. TuxMobil.org provides a web directory with links to Linux installation guides for various laptops and notebooks.
Because of the growing interest in Linux, the quantity of installation guides has increased rapidly during the past year -- more than any other year since TuxMobil's inception in 1997. The installation guides are ordered by manufacturer, distribution and language, and these guides offer hands-on information for almost any laptop model ever produced.
Linux newcomers and computer experts alike will find useful guides about installing and configuring Linux, as well as other Unix operating systems, on their portable computers.
Laptops and notebooks are different from the usual PC because they contain special hardware. As such, running a portable computer away from a power outlet needs to use energy saving techniques, to make the battery time last longer.
Linux users who want to use such hardware optimally require detailed and current hand-on installation guides and configuration suggestions. It is a common practice under members of the Linux community to put such information on ones home page. Without the TuxMobil web directory these information often will be difficult to find.
TuxMobil.org is easy to use no matter the user's computer knowledge. For each of the more than 250 laptops and notebook manufacturers listed, there is a separate page containing a list of Linux installation and configuration guides for their specific models. Each page is further enhanced with links to tools, applications and drivers to get every feature running smoothly and properly.
The TuxMobil web directory is the one-stop-resource to get all the information necessary to get every feature of a laptop or notebook up and running with Linux. To name a few: WLAN, IrDA, BlueTooth, power management, hard disk drive encryption, amongst others.
Despite the extensive list, there are always more guides and tutorials to add. TuxMobil encourages computer users to inform them about articles not linked as TuxMobil expects to reach its 10,000th guide in 2009.
To learn more about TuxMobil or Linux, visit http://www.TuxMobil.org.
###