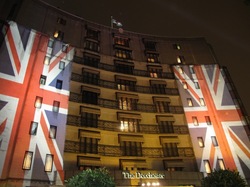 Linzi Stoppard looked absolutely stunning in a bespoke Jasper Conran Union Flag dress flanked by mount Household Cavalry Guards at the Hyde Park Barracks...
(PRWEB) November 8, 2010
Fashion for the Brave is the first time in the Household Cavalry's 350-year history they have collaborated in such an event. It was, however, a beautiful example of how the fashion industry can support the armed services and a great promotion of the work they do and the sacrifices they make.
The event was announced to the media with a photo call by electric violinist and model Linzi Stoppard at the Hyde Park Barracks. Linzi Stoppard wore a bespoke Union Flag dress by British designer Jasper Conran, with mounted cavalry from the Household Guard.
Especially to celebrate the occasion 100 foot high Union flags projected onto the front of The Dorchester hotel Park Lane, London, hosted the inaugural gala event including a silent auction featuring paintings of the Queen, original photography of Marilyn Monroe, a luxury Range Rover and international holidays, the charity was aiming to raise £1million last night. No word yet on the final tally, but the bids ran high.
Electric rock violinists Linzi Stoppard & Ben Lee as FUSE joined forces with classical vocalist Helene Horlyck and opened the main event performing on their exclusive Swarovski FUSE Signature encrusted violins worth over £1,000,000 each, before Hilary Alexander of the Telegraph introduced the fashion show which featured swimsuits by Melissa Odabesh and Heidi Klein, a salute to style in Temperley, Mary Katrantzou and Topshop, and closed with all things red, white and blue from Julien Macdonald, Matthew Williamson, Alexander McQueen and Stella McCartney,and Victoria Beckham.
FUSE are virtuoso musicians Linzi Stoppard and Ben Lee who, on their self-titled debut album, harness their bespoke signature Bridge electric violins and take Rock tracks that people love and radically but lovingly reinterpret them. As Linzi says, "It's completely fresh, no one thought that what we do was even possible. Someone recently said, 'The album is great but I can't hear as much of the violins as I'd like'. Everything you hear is violins! The style that we use when we play is more akin to that of a guitar player, with more soul and electricity – literally! We chose work from artists that are huge stadium acts, and that's where we want to be. It is that big and that powerful - get some ear plugs! We specialise in blowing away people's preconceptions."
What FUSE do is unique but they feel that the tracks that they reinvent are not untouchable. "We're unafraid to cover classic rock tracks," says Ben. "Don't forget that all "classical" music today is cover versions of music by pop stars from the last 300 years! What we do can have a truly global appeal; there are no language barriers. Whilst we're a string band, people can sing along to the choruses that we all know".
Fashion For The Brave is now set to be an annual A list fundraising event each year, which will support Help for Heroes, ABF the Soldiers Charity as well as The Household Cavalry Operational Casualties Fund.
For more information please visit
http://www.operationalcasualtiesfund.co.uk
http://www.helpforheroes.org.uk/
http://www.fuseofficial.com
http://www.linzistoppard.com
# # #