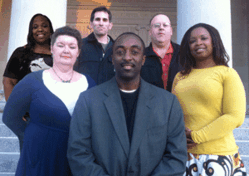 We are all in this together and I will work tirelessly to represent each and every member in the most diligent and efficient manner possible
Trenton, NJ (PRWEB) December 31, 2011
Incoming president of Communications Workers of America (CWA) Local 1039, Lionel Leach, the youngest and first African American male to hold the post set forth his goals for the NJ based union.
His philosophy centers on honest leadership with a commitment that the Union will be run by the members... instead of the members being run by the Union!
Leach vowed to ensure that all committees function proactively and engage in activities that promote the welfare of the members. He is determined to fight for fair contracts and fair labor practices by working with the members and the State while utilizing effective bargaining techniques, strategies and representation.
Leach said, "I look forward to beginning my tenure as president of Local 1039. We are all in this together and I will work tirelessly to represent each and every member in the most diligent and efficient manner possible."
Leach further outlined his goals as follows:
*Transparency through honesty and integrity.

Increase the local membership by over 100 new members.
Establish a local "Defense Fund" to fight layoffs and privatization attacks.
End all cronyism and nepotism within the first 90 days.
*Train our Shop Stewards to be the first line of defense at the workplace.
*Publish and distribute minutes from membership and board meetings on a timely basics.

Hold social events for the membership twice a year and not just during election year.
*Establish committees run by the membership.
*Hold local membership meetings throughout the state, not just in Trenton.
*Publish dates of all meetings.

Ensure that large expenditures are approved by the board.
Ensure that all bargaining units are represented fairly.
Leach summed up, "We must always remember that the local's treasury belongs to the members, not the elected leadership and we are entrusted to spend it wisely. Every member's input is important and will be valued to make our local a success. Further, we will "keep the fire burning" to fight for worker's rights. In short, we will plan our work, and then work our plan!"
For more information:
Lionel Leach, President CWA Local 1039
13 West Front Street
Trenton, NJ 08608
lleach(at)cwa1039(dot)org
917.913.5505
###