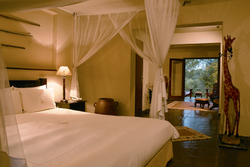 In this economy we want to show you how easy we have made it to get a five-star deal on a trip to Africa, and our new auction site does just that.
Toronto, Canada (PRWEB) June 17, 2009
On June 22nd, Lion World Tours will launch a new section on their web site dedicated to auctioning off trips to Southern and East Africa. This innovative way to purchase travel to Africa allows you to get unbelievable value for money on a dream trip to Africa with virtually no effort! Each trip will have the regular retail price for that trip listed, so that you can see the exact savings amount that you are getting when bidding on a particular trip. These trips give you the opportunity to purchase "affordable luxury" with confidence. These auctions will include some of the most luxurious, well-located, exclusive, four- and five-star properties at the most unbelievable rates.
The Auctions section of the Lion World Tours web site will launch with two unique trips upon which to bid - these first two trips will highlight South Africa, however, trips will be added frequently to countries such as Botswana, Namibia, Zambia, Zimbabwe, Kenya, Tanzania, Rwanda, Uganda, Mauritius, Mozambique, Seychelles, etc. The bidding for each of these trips will typically last for ten days. The first two auctions will include luxury properties such as Sabi Sabi Private Game Reserve, The Twelve Apostles Hotel & Spa, The Blue Train, Lion Sands Private Game Reserve, and the Table Bay Hotel.
Some of the Lion World Tours auction packages will not include international airfare from the USA, as you may choose to redeem your air miles to get to Africa. However, if you decide to purchase air separately, you should know that Lion World Tours' airfares on South African Airways are consistently the most competitive. South African Airways, the most awarded airline to Africa, features the only non-stop service from the US to South Africa, with daily direct service from Washington DC, as well as daily non-stop service from New York.
Lucille Sive, President of Lion World Tours, said, "In this economy we want to show you how easy we have made it to get a five-star deal on a trip to Africa, and our new auction site does just that." As an example of the level of savings that the site can offer you, one of the first two auctions that will be going up for bid on June 22nd includes three nights at The Twelve Apostles Hotel & Spa, one night on The Blue Train, and two nights at Sabi Sabi Bush Lodge, transfers, many meals, and more. This package would sell at a retail price of approximately USD $7,000 for two people, but the starting bid for this auction is just USD $1,700 for two people! With a potential savings of 75%, you won't want to miss this rare opportunity for a trip of a lifetime!
Whether it is a trip for USD $2,000 or a trip for USD $10,000, you can rest assured that any trip that you bid on will exceed expectations for the price that you pay. Lion World Tours understands Africa like no one else, and with this new concept in purchasing travel to Africa, it is easier than ever for you to enjoy the very best of Africa without the stress of planning a big trip. These auctioned trips are not "too good to be true", they are "too good to pass up"! http://www.lionworldtours.com / US: 1-800-387-2706 / Canada: 1-800-668-9968
For over forty years, Lion World Tours has demonstrated its destination expertise in Southern and East Africa. A member of the renowned TravelCorp group - which also includes Trafalgar Tours, Contiki, and Insight Vacations - Lion World Tours has become one of North America's largest agencies for this exotic continent, and is now one of South African Airways' largest consolidators. Lion World Tours also runs "South African Airways Vacations" in conjunction with South African Airways. Bonded by US $1 million with USTOA and US $10 million with TravelCorp, Lion World Tours has offices in Toronto, Edmonton, New York, Atlanta, Fort Lauderdale, and San Diego. Now in its fifth decade, Lion World Tours' clients continue to benefit from the depth of their destination knowledge, expertise and emphasis on customer service.
###