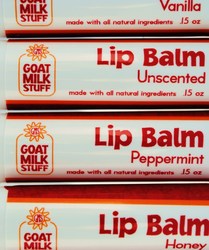 Charlestown, IN (Vocus) October 27, 2010
Goat Milk Stuff™ launched a full line of all-natural Lip Balms to moisten and protect lips against chapping, chafing, cracking from sunburn, windburn and from conditions ranging from dry indoor air to extreme hot and cold weather, announced PJ Jonas, co-founder of the company known for all-natural goat milk soaps, lotions and other chemical-free products.
Offered in deliciously flavored Black Cherry, Honey, Vanilla and Peppermint as well as an Unscented, the Goat Milk Stuff Lip Balms are sold online at http://www.GoatMilkStuff.com for just $3 for each tube.
Leaving lips soft and smooth, every tube of GMS Lip Balm is handmade on the Jonas farm. PJ, along with her husband, Jim, and their eight children, ages 3 to 13, work together doing chores from milking goats and bagging soaps to hand-pouring the lip balm into tubes and adhering labels.
Jim Jonas said, "Goat Milk Stuff Lip Balms condition lips, protecting them from wind and sun with hydrating balms that have such ingredients as anti-oxidant vitamin E. Our products are a refreshing alternative to popular brands that use chemical preservatives, aluminum, sulfates, dyes and petrochemicals in their ingredients."
"We only market products that our family uses and that we consider to be a good value for our customers. The Goat Milk Stuff Lip Balms are luxuriously moisturizing and rejuvenate and lubricate lips while keeping them healthily protected. Our lip balms are also designed to surpass boutique brands that usually cost more than double," said PJ Jonas.
Designed for everyday use at home, office or shopping and for extreme conditions from skiing, surfing or hiking, the Goat Milk Stuff Lip Balms are made with all-natural beeswax, sunflower and soy oils; cocoa and shea butters, vitamin E and flavor or essential oils, except in the unscented version.
Goat Milk Stuff is a family business. PJ Jonas began soapmaking after becoming concerned about chemical ingredients in shampoos and bath products used by her children. Now, the business markets its products across America and worldwide. Recently, media reports about the Jonas family include a report on Business Week Magazine online entrepreneurialism page at http://tinyurl.com/36blp2d.
Goat Milk Stuff™ is based in Charlestown, Indiana, and markets natural goat milk soaps. Goat Milk Stuff™ and GMS™ are trademarked brands and assure the finest quality of product and value. Look for Goat Milk Stuff™ Goat Milk Soaps, GMS Lip Balms, GMS Lotions, GMS Bath Bombs and GMS Laundry products that are environmentally-friendly and produced, marketed and priced responsibly to offer consumers the finest Goat Milk Soaps and related bath products in America.
Online at http://www.GoatMilkStuff.com, the Jonas' company markets a full range of products that are quickly shipped directly to consumers. The Goat Milk Stuff™ website also lists retail stores across America where shoppers can find Goat Milk Stuff™ products. Media contact is Brian Dobson at DobsonPR.com or bd (at) dobsonpr (dot) com.
# # #