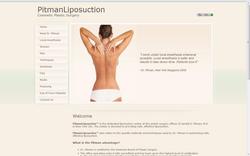 what can I do to help myself?
New York, NY (Vocus) May 26, 2010
Dr. Gerald H. Pitman recently appeared on the PBS series, Life Part 2, discussing plastic surgery and its presence in American culture. Dr. Pitman, a leading plastic surgeon offering procedures such as breast augmentation, facial rejuvenation, and liposuction in Manhattan, appeared on an expert panel discussing liposuction and other cosmetic enhancement procedures. During the discussion, Dr. Pitman emphasized the importance of patient education and safety in plastic surgery. He recommended that before patients undergo plastic surgery they ask themselves "what can I do to help myself?"
Dr. Gerald Pitman observed that the most frequent requests of the baby-boomer generation are for facial procedures such as face lifts, brow lifts, and eyelid surgery. Younger patients more frequently ask for breast lifts, liposuction, and tummy tucks ("mommy makeovers").
Dr. Pitman stated that while plastic surgery procedures can do wonders in improving appearance, those who desire aesthetic enhancement should take into consideration all aspects of the procedure, not just the end result.
Dr. Pitman also discussed a patient's ability to recover with respect to the duration of the chosen procedure, stating that the most important determinants of risk and length of recovery length of procedure and .and amount of surgery carried out. Longer operations and operations involving multiple procedures carry more risk and require more recovery time. According to Dr. Pitman, "most baby boomers should consider less rather than more."
As the leader of a practice offering plastic surgery procedures such as liposuction in New York, Dr. Pitman sees patients of many different ages with many different reasons for wanting cosmetic surgery. He discusses procedures in detail with his patients so that they understand the nature of the procedures, and the potential risks, benefits, and alternatives.
Dr. Pitman says people need to understand that although liposuction and other cosmetic surgery procedures can be transformative, patients should try simpler options such as diet and exercise before deciding to have surgical enhancement.
To see the entire PBS program on plastic surgery go to http://www.pbs.org/lifepart2/watch/season-2/plastic-surgery.
About Gerald H. Pitman, M.D.
Dr. Gerald H. Pitman offers Manhattan liposuction and a comprehensive range of aesthetic enhancement procedures at his practice in New York. He is certified by the American Board of Plastic Surgery. Dr. Pitman is a member of the American Society of Plastic Surgeons, the American Society for Aesthetic Plastic Surgery, the American College of Surgeons, the New York Regional Society of Plastic and Reconstructive Surgeons, and the Northeast Society of Plastic Surgeons. Dr. Pitman has written 29 original papers published in some of the nation's leading peer-reviewed medical journals, and is the author of 11 book chapters on plastic surgery in addition to his landmark textbook, Liposuction & Aesthetic Surgery. He currently serves as Clinical Professor of Surgery at New York University School of Medicine and is on staff at Lenox Hill Hospital, NYU Medical Center, and The New York Eye and Ear Infirmary.
Dr. Pitman's practice is located at 170 East 73rd Street, New York, NY 10021. For more information please go to Dr. Pitman's websites http://www.pitmanliposuction.com and http://www.drpitman.com or contact the office at (212) 517-2600.
###