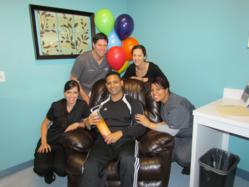 This has been an amazing experience. The staff at MyShape Lipo are the best and really focus on customer service.
Las Vegas, NV (PRWEB) March 27, 2012
Craig Deluz, the recent winner of liposuction contest at MyShape Lipo had his upper and lower abdomen with the love handles treated. He had 1.7 liters of fat removed from those areas and the procedure went very well. Craig is from Sacramento, CA and could not be happier with his results. After multiple injuries, he struggled keeping the weight off, but now his struggles are over. With the cost of liposuction so high, this is the only way for him to get affordable liposuction.
Craig received the call from MyShape Lipo's staff while he was driving home from work. He had entered the contest a month prior and had been following MyShape Lipo's Facebook. Like most winners of contests, Craig never thought that he would win, which made it all the more exciting for him. To avoid an accident and a ticket, since talking on your cell phone is illegal in California, Craig pulled over so he could celebrate his victory. The excitement was overwhelming; Craig didn't know what to do or say, he just couldn't believe his good fortune.
This winner of liposuction wasted no time in claiming his prize. Within 2 weeks, he was in Las Vegas having his procedure at MyShape Lipo. Since he had been so interested in getting liposuction prior to winning this contest, he had already done all of his research and knew exactly what he wanted and was aware of the process. Upon his arrival at MyShape Lipo, Craig was greeted by the staff with open arms and a bouquet of balloons. The procedure went exactly as planned and Craig tolerated things very well. As with every other patient at MyShape Lipo, Craig walked out after his procedure feeling great and ecstatic to know the fat was gone forever.
As an amateur actor, Craig was very comfortable in front of the camera, which is evident in the video taken of him. For the staff at MyShape Lipo, it was a pleasure to give their services to such a deserving individual.
"This has been an amazing experience. The staff at MyShape Lipo are the best and really focus on customer service. They took the time to answer all of my questions and made sure that I was comfortable throughout the procedure," says Craig.
About MyShape Lipo
With over 6000 procedures performed, one can be assured to get the highest quality and smoothest results. Most patients are able to return to work after just 1-3 days, scarring is minimal, results are smooth and there is no general anesthesia. For your complimentary consultation, call 702-818-5476 or email request to info(at)myshapelipo(dot)com.
To enter the contest simply got to http://www.MyFreeLipo.com.