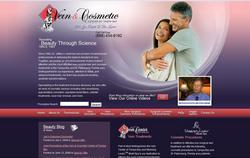 Tampa, FL (Vocus) July 10, 2009
The Vein & Cosmetic Center of Tampa Bay, a Florida cosmetic dermatology and plastic surgery practice, is reaching out to patients with a comprehensive new website that utilizes the latest tools of the internet. The new site is designed to give web visitors an abundance of information on the practice, its doctors and staff, and the procedures they offer by way of web video documentaries, graphic animations, patient testimonials, an updated blog, and detailed descriptions of treatment options. Offering spider and varicose vein treatments and plastic cosmetic surgery in Tampa Bay and surrounding areas, the Vein & Cosmetic Center, along with its Stunning Looks™ Medi Spa, is hoping to provide prospective patients with a virtual tour of its practice as well as give them hope that many dermatological conditions can be significantly improved.
The Vein & Cosmetic Center of Tampa Bay comes under the leadership of Dr. Jeffrey Hunt, a Tampa Bay vein specialist in practice for nearly 20 years. Dr. Hunt, working in collaboration with medical and plastic surgery website design firm Rosemont Media®, developed the new website to provide visitors with not only an accurate reflection of his practice, but also to be an example of a technologically advanced site that is user-friendly and conveys detailed information so that patients can have a better idea of what procedures entail. Dr. Hunt says this information is useful for web visitors to understand the level of commitment the Vein & Cosmetic Center has in seeing that patients achieve their ultimate goals. "With the new types of technologies available, we can now tighten the skin, erase pigmentation spots, resurface the skin to help with fine lines and wrinkles, add injectable fillers to help with sagging, and put normal volume back in the face. The combination of all these new procedures that are available allows us to custom-fit each particular treatment protocol to what works best for the desires of the individual."
The Vein & Cosmetic Center of Tampa Bay focuses on treating vein disorders such as spider and varicose veins, as well as offering an array of cosmetic skin enhancement procedures – including BOTOX® Cosmetic, skin pigmentation correction, and laser hair removal. The center also offers a comprehensive list of both surgical and non-surgical plastic cosmetic surgery options, including Cool Lipo® laser liposuction in Florida. In addition to the many areas devoted to explanations of procedures, the new website is equipped with a before-and-after picture gallery, newsletters and specials information, and detailed biographies on Dr. Hunt, board certified plastic surgeon Dr. Christopher J. Schaffer, and Nurse Practitioner Kristen Thornley Walsh, ARNP, MSN.
Dr. Jeffrey Hunt is one of the leading vein specialists in the southeast, having taken part in developing new laser systems and FDA-sanctioned clinical trials to treat a variety of skin conditions and spider and varicose vein procedures. The Vein & Cosmetic Center of Tampa Bay utilizes some of the most innovative skin enhancement technologies available, including the CoolTouch Endolaser™, the Harmony Pixel Laser, and intense pulsed light therapy (IPL).
Dr. Hunt hopes the new website will give patients a window into the Vein & Cosmetic Center of Tampa Bay and the Stunning Looks™ Medispa so they can see how the latest treatment options can help them improve their appearance and revitalize their self-esteem.
"We try to offer the most new and innovative techniques that give the best results with very affordable pricing for patients. Our feeling is that we can achieve beauty through science… and we only utilize those technologies that will give us the absolute best response."
For more information on cosmetic enhancement and spider vein treatment in Tampa Bay, Florida, the Vein & Cosmetic Center of Tampa Bay can be reached at 3001 N Rocky Point Drive E, Suite 125, Tampa, Florida 33607 – (813) 282-0223; or via its website at http://www.veincentertampa.com.
# # #