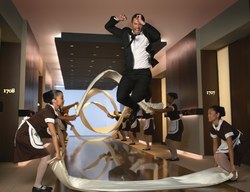 (Vocus) September 15, 2010
It's taken the world by storm and now it's coming to Australia – Hugh Jackman's legendary dance moves from the Tokyo Dancing Hotel advert for Lipton Ice Tea
Ahead of the official, local launch on Sunday 12th September, Lipton Ice Tea can offer never seen before footage of Hugh pulling some of his best moves. Jackman thrills from start to finish, providing a personal guide to the behind-the-scenes action of Tokyo Dancing Hotel.
Unseen b-roll footage is available of Jackman on the official TVC set in Tokyo, strutting his stuff, true to his Aussie style. The ad forms part of Lipton Ice Tea's global 'Positivity' campaign, launched earlier this year. The campaign includes a number of exciting activities involving Jackman, soon to be announced.
Jackman commented:
"I was thrilled when Lipton Ice Tea approached me with the 'Tokyo Dancing Hotel' script as it is a high-energy, positive script, which incorporates many of the dancing and performance skills I have developed as an actor. The execution of the script was a collaborative process between Lipton Ice Tea, the director Michael Gracey, the choreographer Ashley Wallen, and me. It was a wonderful opportunity for me to have more creative input and involvement."
Internationally-renowned Jackman, famed for his performances in recent Hollywood films such as Australia, X-Men and Wolverine, stars in this spectacular TV advert to mark his three year partnership with Lipton Ice Tea in Australia, one of the world's leading iced tea brands.
The advert was filmed in Rio, Brazil earlier this year and capitalizes on Jackman's highly praised acting, dancing and performance talents. It sees Jackman's character looking tired and alone, until he takes a sip of Lipton Ice Tea and his mood is instantly transformed and uplifted. The actor skillfully dances through various rooms in a luxury hotel, with hotel staff and guests joining him and mirroring his energetic moves.
Aside from Jackman, the ad creative execution was also driven by two other talented Australians: director Michael Gracey, and choreographer Ashley Wallen.
Tony Stein, Marketing Director for Lipton Ice Tea in Australia said:
"Under the Australian sun, nothing cools you down and picks you up like a Lipton Ice Tea, and its popularity here is booming. We're thrilled with the new global TV ad starring Australia's own Hugh Jackman. It really showcases the brand's refreshing qualities and positive, optimistic ethos. There's an exciting time ahead for Lipton Ice Tea and the launch of this ad here in Australia, is only the beginning. Watch this space!"
Michael Gracey, director of 'Tokyo Dancing Hotel', commented:
"It's great when you can take a script and think about how you can make it unique to the brand, in this case Lipton Ice Tea. For 'Tokyo Dancing Hotel', you see an image of Hugh Jackman standing, dancing on water with two Japanese girls in a roof top garden and that single image becomes iconic and something that people will always reference back to Lipton Ice Tea. I love when you get the opportunity to do that."
Ashley Wallen, choreographer of Tokyo Dancing Hotel said:
"When discussing the idea behind the choreography for 'Tokyo Dancing Hotel' we wanted to get a bit of comedy in there. We have referenced iconic choreography like Bob Fosse's style, alongside other similar comedic influences, and used Michael Jackson style moves for other scenes to bring a mixture of different styles together."
Jason Green, Chief Marketing Officer of Lipton Ice Tea explained:
"We're extremely excited about the new advert 'Tokyo Dancing Hotel', as it highlights the two key values of Lipton Ice Tea, which are positivity and optimism. Hugh Jackman is the perfect actor for this Lipton Ice Tea advert as he has such an upbeat attitude to life. We're very excited about the global plans and are looking forward to the additional activity with Hugh Jackman coming over the next three years."
For more information on Lipton Ice Tea please visit http://www.lipton.com.au
About Lipton Ice Tea
Lipton Ice Tea is one of the world's leading iced tea brands and is sold in over 56 countries worldwide. It is a deliciously refreshing cool drink. Lipton Ice Tea is made from real tea leaves and contains no preservatives, no artificial colourants, and less sugar than most regular soft drinks.
In Australia
Lipton is by far Australia's favourite Iced Tea, and is one of the fastest growing cold drink brands in Australia and New Zealand.
About Lipton
Lipton, owned by Unilever, is one of the world's best-known and best-selling brands of both hot leaf and ready-to-drink tea and is sold in more than 150 countries across the world.
Sir Thomas Lipton from Scotland founded the Lipton Tea Company in the late 19th century, when he bought his first tea estate in Ceylon. Over a hundred years on, Lipton now possesses thousands of acres of quality tea gardens in East Africa (Kenya (Kericho)
and Tanzania (Mufindi)) and its teas are a blend selected from many plantations around the world, including India, Sri Lanka, Kenya, and China.
About Unilever
Unilever works to create a better future every day. Our company helps people feel good, look good and get more out of life with brands and services that are good for them and good for others.
Unilever is one of the world's leading fast-moving consumer goods companies, with strong local roots in more than 100 countries. Globally, Unilever has around 163,000 employees, and in 2009 generated annual sales of €40 billion. In Australasia, Unilever employs more than 1,600 people, and has offices and manufacturing facilities throughout Australia and New Zealand.
Unilever's portfolio features some of the world's best-known household names. In Australasia, our name brands include Flora, Lipton, Bushells, Dove, Rexona, Vaseline, Omo, Surf, Continental, Chicken Tonight and Streets.
For more information about Unilever and its brands, please visit http://www.unilever.com.au
Sustainability
Lipton's own plantations in East Africa and third-party tea estates have been working together since 2002 to ensure compliance with the Unilever sustainable agriculture guidelines and the Ethical Tea Partnership criteria. The plantations were recognized by the Global Business Coalition for their fight against AIDS in 2006.
In 2008, the Lipton tea plantations in Kenya were awarded Rainforest Alliance certification through Lipton's commitment to environmental and socially responsible sourcing. On 6th May 2009, Lipton received a Corporate Green Globe Award for its work with the organization.
In May 2007, Unilever became the first company to commit to sourcing all its tea in a sustainable manner.
Products

The range of Lipton Ice Tea variants includes Peach, Lemon, Mango, and new Raspberry, as well as Green Tea variants Original and Citrus.
Lipton Ice Tea is available in supermarkets in single serve 500mL PET bottles (RRP $2.19), multi-serve 1.5L PET bottles (RRP $3.29) and 6-pack multi pack 330mL cans (RRP $6.99).
Lipton Ice Tea is also available in all outlets for on-the-go consumption, with 500mL PET bottles (RRP $3.35) widely available and 325mL glass bottles available in many cafés (RRP $3.10)
About Michael Gracey:
Director Michael Gracey began shooting and developing film from an early age. Gracey left school to become the youngest animator at Animal Logic, the animation house behind the Oscar-winning film, 'Happy Feet'. Michael was then fortunate enough to become part of the small creative circle that worked closely with director Baz Lurhman after 'Romeo and Juliet'. He helped Luhrmann and writer Craig Pearce to visualize the concepts from script to screen for 'Moulin Rouge'! It was after this collaboration that Michael teamed up with fellow visual effects artist Pete Commins.
Their acclaimed commercial work has received numerous accolades including BTAA, Creative Circle and Midsummer Awards. Most recently, Michael's groundbreaking spot, T-Mobile 'Dance', won three Lions at the 2009 Cannes competition and two Clios, including Gold for Best Direction. His newest commercial, Evian 'Roller Babies', debuted as the most popular clip on YouTube and in a month, has amassed over 24 million hits worldwide.
About Ashley Wallen, Choreographer of Tokyo Hotel:
Ashley Wallen, from Queensland, Australia, became a professional dancer at just 16 years old. Wallen's dancing career breakthrough was when he was chosen to dance in Kylie Minogue's 'Live and Intimate' tour. Subsequently, he was cast on Kylie's 'On a Night Like This' tour and choreographed her 'Love Kylie' underwear launch.
Wallen has worked with several other stars, including Mariah Carey, Nicole Kidman, the Sugababes and Will Young. Wallen increasingly became a choreographer, working with Dannii Minogue, Sophie Monk and on events, including Australian Fashion Week.
###