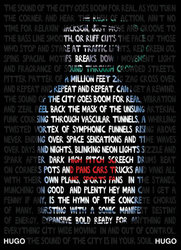 New York, NY and Madrid, Spain (PRWEB) September 5, 2008
"City Sound", the consumer-advertising concept by Award Winning Creative Director Adam Mathew Lipton, has won "Hugo Create" International Advertising and Design competition Round 3.
Inspired by the sonic hustle and bustle of New York City, Adam crafted the winning ad from original poetry he created specifically for the contest. The graphic juxtaposition of expressive language and product image, proved a compelling story to the judges in communicating round 3's theme, "City Sounds". Adam's concept was selected from over 3000 entries, and will be published in I-D Magazine.
About Adam Mathew Lipton:
Throughout his 14 years as a Creative Director / Art Director, Adam has helped to elevate some of the largest brands in the world, including Guinness, Johnnie Walker, Lucent Technologies, MasterCard, Mitsubishi Motors, and Viacom's MTV and VH1. His work in Branding, Above and Below the Line Advertising, Promotional Design and Advertising, Packaging, and Direct Marketing, has won various US and International awards.
To view examples of Adam's work, please click the following link:
Adam's Portfolio.
###