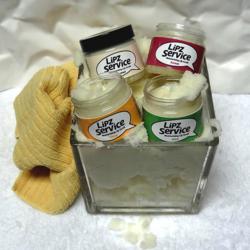 My wife's lips are now extra kissable.
Bethpage, NY (PRWEB) April 16, 2013
Scrubz Body Scrub, Inc., manufacturer & distributor of natural skin care products, helps beat the dry, chapped lips of the warmer weather, by releasing Lipz Service, a new lip scrub designed to polish, smooth and soften your pucker.
Everyone loves when the weather gets warm, however, the more time spent outdoors, the more lips can get chapped and dry. Sun, salt, wind and chlorine all contribute. Because lips have no oil or sweat glands, they need extra care and protection to make them pucker perfect. Polishing the dead skin off gets lips soft and smooth. The massage action increases blood flow, so it temporarily plumps them, too.
Lipz Service is created with extra fine sugar, pure shea butter, which has an SPF of 5% and 8 botanical oils, such as olive, grapeseed, coconut and vitamin E. It's naturally sweet in unscented, but also comes in mint, sweet and citrus.
The best comment came from the spouse of a customer who said, "My wife's lips are now extra kissable". Scrubz took his word for it.
Scrubz Body Scrub, Inc. manufactures and distributes natural skin care products. They are hand-made in small batches and are created for all skin types, including sensitive skin. Bases contain no alcohol, artificial preservatives nor color, parabens, petro-chemicals, phthalates or gluten. For further information, please visit: http://www.scrubzbodyscrub.com