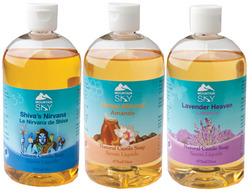 Many people have been requesting liquid soaps from us
Nelson, BC (PRWEB) October 1, 2009
Mountain Sky has been making its popular natural body bar soaps for 15 years and is now making natural authentic castile liquid soap in six varieties.
"Many people have been requesting liquid soaps from us", says Raynald Losier co-owner. "We have invested in a new manufacturing process and have spent a lot of time experimenting with recipes and essential oil blends." According to Nina George co-owner, "Our new liquid soaps are really mild and wonderful. I think one of our new scents Shiva's Nirvana is going to be our top selling liquid soap product similar to our top selling body bar, Kali Spice."
"In keeping with our sustainability pledge, we are selling our liquid soaps without pumps. We are encouraging our customers to re-use an existing pump or to pour the soap into a re-usable soap pump," said Losier. "We have received a lot of feedback from customers who prefer less packaging and want to re-use the plastic that they have at home. Not putting a pump on the product also lets us sell the product for less." Mountain Sky has created several videos explaining some of their sustainability ideas, soap dilution suggestions, and an expose on the proliferation of corn sugar soaps which can be viewed at the Mountain Sky Website Video Page.
According to George, "Just making the liquid soaps with simple ingredients is better for the environment and part of our environmental responsibility."All of Mountain Sky's liquid soaps are made only with elementary ingredients not synthetic detergent blends.
Many liquid soaps found on the market are actually a blend of detergents and corn sugars which have major ecological impacts from their manufacturing processes. Detergents or cleanser blends are created by breaking down petrochemicals, or oils and fats (oleo-chemicals) and heating them up at extremely high temperatures, then exposing the products to toxic chemicals to isolate key ingredients in your natural' cosmetic product. On average, there are several manufacturing steps between the original raw materials and the final product. This method of breaking down a natural product into isolated ingredients creates a large waste problem for our waterways.
Many oleo-chemical detergents have been created for their foaming and thickening properties which do not enhance their cleansing attributes.
Real natural castile soaps on the other hand, are created by mixing natural oils with an alkali (sodium hydroxide for solid soap or potassium hydroxide for liquid soap). Natural soaps have been created like this since soap was invented by our ancestors. Detergents and chemical cleansers have only been around since the advent of modern manufacturing processes.
The higher ecological impact of the waste stream and transportation issues due to complex manufacturing is often not considered in the greenness of a product. Mountain Sky's natural authentic castile soap is produced with simple natural oils, essential oils and an alkali. Mountain Sky soaps retain its natural glycerin to create a milder natural soap while still retaining its natural anti-bacterial properties.
You can find Mountain Sky's natural products: 14 varieties of bar soaps, 6 liquid soaps, 4 types of lip balms, 3 body butter foot butter and massage bars in quality health food stores, grocery and gift stores throughout Canada and on the Mountain Sky Website - http://www.mountainskysoap.com
Mountain Sky is offering a free Raspberry Love Thy Lips lip balm with a minimum purchase of $30 on the Mountain Sky Website. Please use coupon code lipbalm09
in the coupon code section during checkout. Good till the end of Dec. 09
# # #