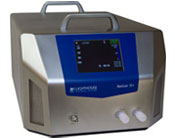 Multiple data outputs on the NanoCount 30+ make it convenient for manufacturing control and engineering analysis.
Fremont, CA (PRWEB) December 06, 2012
Lighthouse recently increased volume production of the NanoCount 30+ in response to customer demand. Lighthouse's manufacturing includes a higher purity water system and NIST traceable particle count standard metrology to deliver performance that is traceable also to existing 50 nanometer particles counters. The NanoCount 25+ and NanoCount 30+ continue to be adopted by top tier semiconductor manufacturers for the most advanced R&D and manufacturing processes.
Both the NanoCount 30+ and the NanoCount 25+ utilize a short wavelength high power solid state laser and multiple detectors that improve sensitivity more than 50 times over that of previous generation 50 nanometer technology.
The NanoCount 30+ is the preferred device for semiconductor manufacturers upgrading existing facilities to meet objectives for shrinking critical dimensions of new products and processes. At today's critical dimensions, 50 nanometers no longer meets sensitivity requirements. By replacing 50 nanometer particle counters with the NanoCount 30+, manufacturers can now detect particle contamination at sizes that impact newer product yields.
The NanoCount 30+ comes with a touch screen display, integrated flow meter, USB flash drive and optional LMS Express Software. The LMS Express Software helps simplify operation and supports existing 50 nanometer instruments. Multiple data outputs on the NanoCount 30+ make it convenient for manufacturing control and engineering analysis.
About Lighthouse Worldwide Solutions
Lighthouse is the leading provider of particle counters, particle, microbial, environmental and facility monitoring software, and contamination monitoring systems. The company provides environment monitoring devices such as microbial samplers, liquid particle counters, handheld particle counters, and air particle counters to the defense, aerospace, pharmaceutical, semiconductor, and many other manufacturing sectors.
With its headquarters and manufacturing facilities based on the West Coast, Lighthouse Worldwide Solutions' products are proudly made in the USA. The company's products are sold and supported by a global network of distributors.
Direct all media and product inquiries to:
Lighthouse Worldwide Solutions
47300 Kato Road
Fremont, CA 94538 USA
+1 510.438.0500
info (at ) golighthouse (dot) com