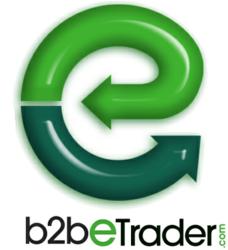 Our mission is to provide an easy, clear and popular free classified website where two businesses can engage safely in selling, buying, bartering and trading of equipment, supplies and services.
(PRWEB) January 12, 2012
B2BeTrader is excited to announce new features that will bring some fantastic deals on used equipment to the end user. These software features enable small businessmen and established businesses to list their equipment more efficiently oftentimes with the tap of a few buttons on their computer or smart-phone. This is opening up a whole new world of used IT equipment, restaurant equipment, medical equipment, farm equipment, heavy equipment to those who previously had no access to it.
By launching its Free service, and providing ingenious solutions in the form of free E-trading tools, B2BeTrader, has facilitated the businesses across a wide spectrum. In its free directory, businesses can list a range of their used machineries/equipment, from heavy to light, as bulldozer, truck to phone system, and IT equipments and many more which they are looking to sell and recover their assets in a profitable manner. B2BeTrader is one stop website for placing your classifieds, auction items, directory listing, networking through forums, all for free, which an industry can buy, sell, trade and in short optimally conserve and reduce resources.
End users are starting to love B2BeTrader because:

The B2BeTrader mobile app helps them find dealers in their area. B2BeTrader's end user loves how easy it is to find used equipment nearby. He or she simply opens up the B2BeTrader mobile app (coming soon), searches for the used equipment, and navigate to the destination. The end user can meet the dealer and determine if the equipment works before making a purchase.
There are a lot of listings on B2BeTrader. And it keeps growing every day! More and more dealers are using B2BeTrader because it posts every listing to all of the major social media outlets. Dealers take a few photos, describe their used equipment, and suddenly it's visible to everyone. This always brings in the end user of the equipment, usually someone who is interested in making a purchase.
They can find the best deals. When dealers or liquidators compete with one another for price, the end user always gets a great deal on used equipment. The number of listings keeps growing every day, and more and more users walk away with high quality used equipment that keeps their businesses running for years to come.
End users are dealers too! B2BeTrader makes it easy for its end users to become do-it-yourself re-marketers. What is that? It's someone who finds a product, cleans it up, and sells it back to the public at a slightly higher price. DIY re-marketers take the risk the public isn't willing to take, and if they find a great deal, they can profit from it.
The end user loves to help the environment. There's nothing more green than cutting down on landfill waste. When B2BeTrader's end users purchase their used equipment from dealers on the site, they prevent that equipment from going to the landfills. This not only saves money, it helps to cut down on our carbon footprint -something we can all agree with.
It's a great way to bootstrap a business in a rough economy. Every penny counts these days. B2BeTrader's end user understands this, and that's why so many of them are happy to purchase high quality used equipment through the site. These new features are helping them save money and operate their businesses with lower costs.
The B2BeTrader mobile app (coming soon) and social media features are generating so much buzz because they're making it incredibly easy for businesses to list their equipment and sell it shortly. This makes life easier for the site's end user because it eliminates a lot of the common frictions that can occur in this sort of business transaction. These days, people want to find the right equipment, and they want to do it fast. With so many options to choose from, this is now the reality for most end users of the site. Click here to post free ads.
# # #