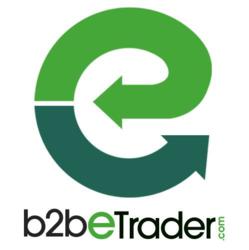 A Great Solution For Both The End-User and Dealer
St. Petersburg Fl. (PRWEB) December 01, 2011
Used equipment dealers / liquidator are looking to a new place to find equipment they can resell, and that place is B2BeTrader.com. A free directory listing website where businesses can list their used IT equipment, restaurant equipment, medical equipment, farm equipment, heavy equipment, and more. With the best social media tools, and a handy mobile app (coming soon), B2BeTrader is the perfect solution for dealers looking to add more equipment to their inventory. Dealers can function as the middle man, doing all of the quality inspections so their buyers don't have to. By the time the buyer sees the product, it already has the dealer's stamp of approval.
B2BeTrader helps used equipment dealers in a number of ways. Here are some of them.

Plenty of local listings. The sheer number of listings on B2BeTrader is huge, and it keeps on growing. Used equipment dealers can easily spot equipment that is ideal for reselling on the B2BeTrader website.
No need to sign up for a membership. B2BeTrader is totally free to use, and there is no need to sign up for anything in order to use it. Dealers love this because it adds to the total number of listings on the site. Nobody is hampered by forms they have to fill out, so practically everyone is on the site. Click here to place free ads
B2BeTrader has superior social media tools. Every time someone puts a listing on B2BeTrader, that listing shows up on all of the major social media sites. Dealers can use Facebook, Twitter, and other social media networks to locate the products they're looking to buy and then resell. This is yet another way for dealers to fine tune the search to get exactly what they want every time.
The B2BeTrader mobile app. (coming soon). This handy app shows all of the different local places where dealers can purchase the used equipment they're looking to resell. Dealers can find the seller on a map and then visit the seller to determine the quality of the equipment before making a purchase. This allows dealers to do their job of filtering used equipment for their buyers.
B2BeTrader is committed to being green. Nothing is better for the environment than for businesses to reuse the equipment that might have been destined for the trash heap. Dealers are assisting in this green process by functioning as the filter. They are ensuring that the equipment works properly before they resell it to their end-user. Purchasing equipment that will last a long time is one of the best things anyone can do for the environment.
The deals are there to be had on B2BeTrader. Dealers can find the equipment at a phenomenally low price, test it out for themselves, and then sell it for a small profit to their end users. As a result, everyone wins. Dealers get to run a business, and their customers get certified high quality used equipment.
###