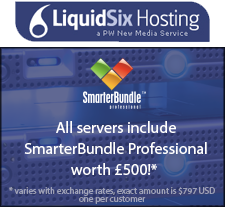 Our customers upgrading to dedicated servers will be able to continue using the same high quality software that they will be familiar with from our shared and reseller hosting services
Worthing, UK (PRWEB UK) 26 September 2012
LiquidSix Hosting, a UK based Windows web hosting provider, is proud to announce that it has partnered with SmarterTools Inc. as an authorised bundle provider to provide SmarterTools software with its new range of dedicated servers at no additional cost.
Under the terms of the partnership, LiquidSix Hosting will provide a bundle of SmarterTools software at no additional cost to customers who purchase any Dedicated Server or Virtual Private Server (VPS). This bundle, which is worth $800 (U.S. dollars), includes the latest version of the SmarterMail mail server, SmarterStats Web log analytics and SEO software, and SmarterTrack customer service software.
"I am excited about this new opportunity for our customers", says Paul Woodland of LiquidSix Hosting, "It means that, for no extra cost, our customers upgrading to dedicated servers will be able to continue using the same high quality software that they will be familiar with from our shared and reseller hosting services and that new customers can experience it for the first time."
The new range of dedicated servers includes a variety of specifications, ranging from a dual core Atom based server to a number based on Quad Core Xeon processors. A variety of hard drive configurations, both with and without RAID are available. All of these servers include the recently released Windows Server 2012 with IIS 8.
For more information on the servers and the included bundle, visit http://www.liquidsix.com/servers or contact LiquidSix Hosting via support.liquidsix.com.
About SmarterTools
Founded in 2003, SmarterTools Inc. is an information technology management software company based in Phoenix, Arizona. SmarterTools builds a Windows mail server, customer service software, and Web log analytics and SEO software that simplify and automate the day-to-day IT operations of businesses and hosting environments in over 100 countries. Additional information about SmarterTools Inc. and the SmarterTools product line is available at the company website: http://www.smartertools.com.
About LiquidSix Hosting / PW New Media
Founded in 2004, PW New Media provides software development and consultancy services, as well as Windows based web hosting, servers and associated services through its separate brand – LiquidSix Hosting.
They are located in the United Kingdom and have servers in both Manchester and Maidenhead in the UK, and Dallas, Texas in the US.